Tuesday, July 12, 2022
Welcome back brainiacs! Last week on my Reading Tuesday's B.R.E.A.T.H.S. blog, I put the spotlight on best-selling author, Denise Duffield-Thomas detailing her books, podcasts, and money bootcamp that have helped to change my life. This week, I am putting the spotlight on the first two books in her series, "Lucky Bitch" and "Get Rich, Lucky Bitch," that she self-published, and later got picked up by Hayhouse Publishing after signing her third book which I will review at the end of this month.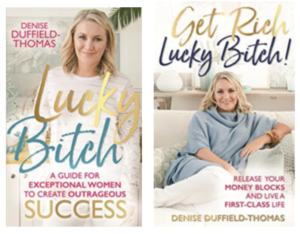 "Lucky Bitch: A Guide for Exceptional Women to Create Outrageous Success"
While Denise DT published her first book, "Lucky Bitch" in 2011, I didn't find out about it until Fall of 2020, and her messages still resonated with me a decade later. I have been on a journey of manifesting better health, wealth, and relationships when I found Denise's books on The Hay House Empower You App. It was a time when I was shifting from being an educator to entrepreneur, and was soaking up every book about business and money when I found "Lucky Bitch."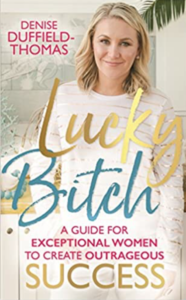 "Lucky Bitch" Book Review
Denise tells her story of how she went from dreaming of a BIG life when she grew up in a single-parent home where money was scarce, to trying her skills in a variety of things from dressing up, dancing, working in the office, and writing a couple not-so-good first books. She talks about how she loves books, reading about money, self-help, and mysteries of manifesting. After reading, studying many authors, making her post-it note affirmations, shifting her mindset, and really focusing on the things she really wanted, she found her actions were working. 
When she manifested her love, they worked together to bring their dreams of a luxurious life to a reality with lots of behind-the-scenes work (all mentioned in the book). Together, they were able to get lucky (pun intended) and won an all expense paid 6 month luxurious honeymoon where they got remarried at each location. The manifesting didn't stop there and the lucky couple were able to leverage their success and repeat it. "Lucky Bitch" is where she details how we can do the same.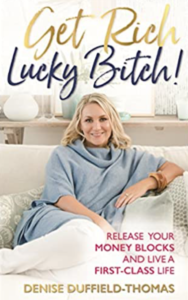 "Get Rich, Lucky Bitch: Release Your Money Blocks and Live a First-Class Life"
With the success of her first self-published book, and a few years of new experiences with money blocks as a new six-figure earner,  Denise creates a new book based off of that success, "Get Rich, Lucky Bitch." The first book was written for herself to get her story out there about how she manifested wonderful things, but this second book was written for us women in mind to give us tools specifically on how to manifest money. This book even prompted her to create Money Bootcamp courses around the content.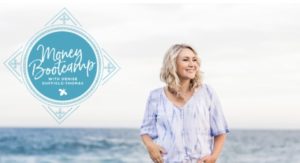 "Get Rich, Lucky Bitch" Book Review
Now with experience under her belt, Denise DT comes back a second time, detailing her own personal upgrades, income increases, and new money blocks since the first book release. In "Get Rich, Lucky Bitch," she continues to share her manifesting successes and provides steps on how we can find financial freedom with a little work and reach a seven figure income like she has now. This book provides tangible tools on finding our money blocks, decluttering, upgrading, and manifesting more money in our lives.
This book also helps to empower women to change their money mindset, money habits, and create new ways to attract money that will allow us to upgrade our own lives. "Get Rich, Luck Bitch" teaches us the work that needs to be done to start clearing money blocks. She guides us on decluttering our environments, being clear on why we want money, having gratitude for the money we have, forgiving money flaws, catching your money sabotages, and taking the steps to receiving money and upgrading your life.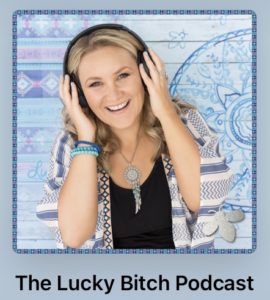 The Lucky Bitch Podcast
Five years after the launch of her first book, Denise created a podcast based on her "Luck Bitch" book series. From August 2016 through November 6, 2018, Denise started recording herself on Facebook live and sharing her content through her first podcast she does with her money bootcamp Facebook Group, "The Lucky Bitch Podcast."  On her shows she communicates tips from her blog and books into practical actions we can follow to start manifesting the lives of our dreams. I have not listened to all of her podcasts yet, but I pick and choose which ones resonate with me for the day. 

Final Thoughts on the "Lucky Bitch Series"
I chose to spotlight Denise's books this month because of the impact they have made in my personal life the last two years since I found them. My money mindset has shifted and I have been able to accomplish more things such as constantly learning about my money blocks at each level, how to manifest things when I have clarity, try everything I can think of to be a money magnet, and to know that I was born abundant, worthy, and lucky. I will keep my momentum with my money journey by continually inspiring myself by rereading her books, listening to her podcast episodes, and joining her money boot camp to have more hands-on experience and a strong community to discuss my money challenges and successes. Come back the next couple Tuesdays to read about her other amazing books that have not only helped change me, but will help to change the world. 
Thank you for reading,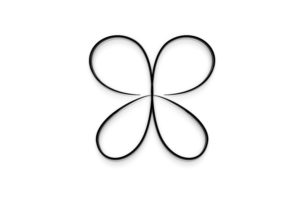 Dr. Jaime Brainerd, E.d.D.