Tuesday, July 11, 2023
Good day Readers! Thank you for stopping by Reading Tuesdays of my B.R.E.A.T.H.S. blog where I spotlight on my favorite authors. On Tuesdays this month, I am changing things up a bit by reading and reviewing something other than the usual non-fiction self-help books I post here. 
July '23 Summer Reading Schedule
I am gracefully forcing myself into leisurely Summer reading to stretch myself a little out of my comfort zone, and I even joined a small reading club for accountability, as well as joined a book review group. The first week in July, I shared about Dolly Parton and James Patterson's fiction novel, "Run, Rose Run." This second week I am sharing my review about an autobiography, "Finding Me: A Memoir," written by a famous actress and producer, E.G.O.T. Awards winner, and now #1 bestselling author, Viola Davis.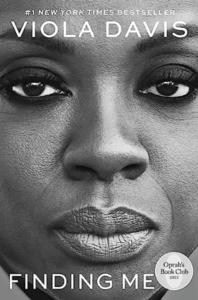 Brainerd's Blurb: "Finding Me: A Memoir"
Viola Davis shares her own hero's journey from starting her life extremely "po", hungry, abused, introverted, and constantly traumatized at war zones, to rising to fame. She used her turmoil as the catalyst to help her take aim into her acting career that ultimately led to her joy and salvation as a thriving artist. "Finding Me: A Memoir" is a story of figuring out that we are beautiful, worthy, somebody, but more importantly, we all eventually find out who we really are, perfect as ourselves.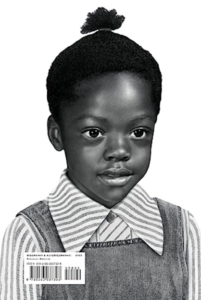 Brainerd's Book Review: "Finding Me: A Memoir"
The story starts off with a bunch of bad words from a spunky 8 year old Rhode Island girl who knew her calling, but also knew it was bigger than what she could have imagined for herself. Despite her upbringing in poverty, Viola Davis recalls the times she and her sisters would put on performances, winning awards, scholarships, and eventually earning full-rides to colleges. 
Viola details the good times of holidays, dad playing guitar, playing pool, and acting with the sisters. However, she mostly recalls the not-so-good times with an alcoholic and abusive father, being food sensitive, bedwetting, living without electricity or hot water, lack of hygiene, sexual abuse, and lots rats. As bad as it all was, her older sister made it very clear that if she didn't want to be poor the rest of her life, she better decide what she wants to be and work hard for it. 
Working hard was an understatement, especially with being both Black and poor, Viola describes it as "feeling like leftovers, as for the emotional abandonment of having to fight for her basic needs." After living in virtual hell, Viola started to find her knack not only for acting, but for manifesting things with her talents. That's when things started taking off and she went to Summer acting program, full tuition to talent competitions, full ride to college and Julliard, making it on Broadway, TV, and the movie screens, Viola is definitely seen.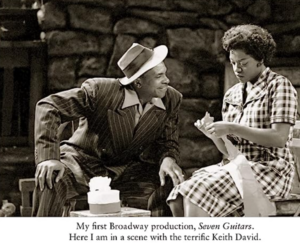 Brainerd's Star Rating of "Finding Me: A Memoir"
| | | | | |
| --- | --- | --- | --- | --- |
| ✭ Alchemy | ✭Inspiring | ✭Re-creational | ✭Transformational | ✭Vulnerable |
Brainerd's Conclusion "Finding Me: A Memoir"
I was very inspired by Viola's story because it reminded me of my own with all the alchemy, especially regarding knowing our calling. That it was bigger than what we could imagine, doing everything we could to find it, but also having faith that the right things would fall perfectly into place when needed. We both grew up with rough pasts that we did not let define our futures. Instead, we let those darker moments propel us closer to the light. 
My favorite line from the book, "This is the journey, the only weapon I have to blast through it all is forgiveness (Davis, 2022)." Her dreams were bigger than her fears which helped her recreate the life of her dreams. Viola Davis, award-winning actor and now she can add best-selling author for her transformational autobiography, "Finding Me: A Memoir." 
July 11, 2023 Daily Motivation Draw 
I set up a small indoor altar by my window. Today was the first day that I did not go outside to pick some fresh berries. Instead, I grabbed a couple Reese Pieces and asked Spirit if that would be a suitable offering. My heart fluttered and I laughed and we agreed that it's perfect for the moment. I lit the candle, lit the Palo Santo stick, and read the invocation. 
My mind was filled with some turmoil, so I centered myself, took three deep breaths with my hands on my head, then again with my hands on my cheeks, and on my heart. I shuffled the deck three times, cut it in half, and drew the card: 47 – Mosaic – Pieces. Tears flooded down my face and I wept as I read the message.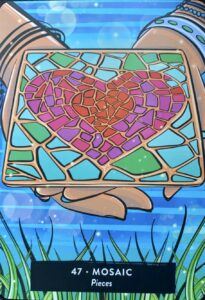 Daily Draw Question: "What medicine is being invited into my life so that I may thrive?" (Frost, 2023)
The card I drew: 47 – Mosaic –

Pieces

Message integration: This card asks for us to zoom in on every aspect of our past and notice the beautiful intricate parts that were necessary for this person to grow into themselves (Frost, 2023). The medicine from this card asks about the difficult times that need forgiveness and healing (Frost, 2023). We are being asked to take each fragment, good or bad alike, and re-create it into a new understanding (Frost, 2023)

Healing affirmation: "I retrieve all the pieces of the past that are calling for acceptance and love. I return to me." (Frost, 2023)

Personal insight: WOW! It is incredible how this card resonated perfectly with today's blog post about finding oneself, forgiving, and being seen by self from a whole new perspective. So much love and gratitude is pouring out of my heart and soul as I feel a true connection to The Sacred Medicine Oracle cards and their messages. This Mosaic card helped me to better understand all the parts of my past that wish to be seen, same as Viola Davis had in her book, "Finding Me."
Thank you for reading about my readings,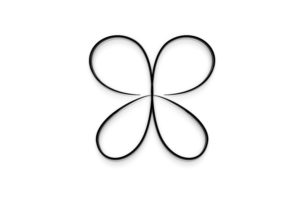 Dr. Jaime Brainerd, Ed.D.
References:
Davis, V. (2022). Finding Me: A Memoir. Harper Collins Publishers.
Frost, A. (2023). The sacred medicine oracle card deck & guidebook. Hay House, Inc.