Tuesday, July 18, 2023
Good day Readers! Thank you for stopping by Reading Tuesdays of my B.R.E.A.T.H.S. blog where I spotlight on my favorite authors. On Tuesdays this month, I am changing things up a bit by reading and reviewing something other than the usual non-fiction self-help books I post here. 
July '23 Summer Reading
I am gracefully forcing myself into leisurely Summer reading to stretch myself a little out of my comfort zone. The first week in July, I shared about Dolly Parton and James Patterson's fiction novel, "Run, Rose Run." Last week, I shared my review of an autobiography, "Finding Me: A Memoir," by Viola Davis. This third week, I am sharing my review of "The House in the Cerulean Sea," by TJ Klune, a New York Times and USA Today Bestselling LGBTQ+ fantasy fiction novel. 
New Book Club
In June of 2023, a handful of my friends decided to start a book club, read a book a month, and meet to discuss them. Our first book to read was, "The House in the Cerulean Sea," by TJ Klune, a LGBTQ+ fantasy fiction novel, which is a great book to start off with, especially during pride month. We had planned to meet the third week in June. I started the book and only completed a few chapters before the rush of Summer schedules intervened. Although I did not finish the book, I committed to showing up for this book club, so I was present for our first meeting. I promised to read the book and report back in July so here it is! 
Brainerd's Blurb: The House in the Cerulean Sea
Stuck in the rat race of life, Linus is forced out of his comfort zone of a soppy city, and working for his government employer, the Department in Charge of Magical Youth (DICOMY), was summoned to investigate a secluded Marsyas Orphanage located out in the ocean where he has never been or seen. Upon meeting some interesting caretakers, Linus is shocked to find out more about six children who live there. 
Determined to do his job and investigate the safety of the children, he interviews each one, and has a better understanding of why they are all secluded on this island away from the public. They are at the orphanage more out of concern for the public's safety rather than their own. Learning this, Linus starts to wonder how the children will ever be integrated into the rest of the world, which is the point of every orphanage. 
Linus' mission seems complete when he returns home after one month away on the island. He did file his final review and had done his job to the best of his ability. So why does it seem that he left the job unfinished? Read on to find out how there can be magic in the ordinary.  
Brainerd's Book Review: The House in the Cerulean Sea
My only regret is putting off reading the book and not marking it on the calendar as a priority to read. This was a delightful book that had many loving moral stories intertwined with a sprinkle of magic and imagination. My favorite part was the mention of all the music as that gave me more clues of what was going on in the love story with the character's feelings or experiences. My next favorite part was all the people who's protective bubble popped in the story allowing their hearts and minds to expand. I haven't read a fantasy fiction novel for leisure in over two decades and I was thoroughly enlightened as well as entertained by the detail that went into building the character personalities. Great novel, TJ Klune. I will be back for more. 
Brainerd's 5-Star Rating: The House in the Cerulean Sea
| | | | | |
| --- | --- | --- | --- | --- |
| ✭ Courage | ✭Joy | ✭Love | ✭Loyalty | ✭Magical |
Brainerd's Conclusion: The House in the Cerulean Sea
This was a magical novel of love, trust building, courage, compassion, joy, and loyalty, or as my friends would say, "all of the feelings." Reading this book, I was taken on a jovial journey of love and made new friends with the characters along the way. So much that I am interested in finding out more books in this series. 
July 18, 2023 Daily Motivation Draw 
Today's draw was with my 7 year old twin niece and nephew. We set up a small outdoor altar on a small round metal and glass table located in the shaded patio area with a candle, fresh-picked raspberries and blueberries (they picked them), the card deck, and a palo santo stick. I lit the candle, they took turns lighting the stick, used their intuitive senses, and I began to read the invocation from the guidebook. I let my niece pull the first card, my nephew pull the second card, and I pulled the third card: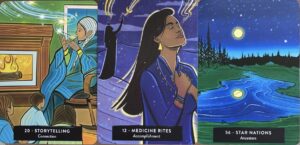 Daily Draw Question: "What medicine is being invited into my life so that I may thrive?" (Frost, 2023).
The cards we drew: 

1. Storytelling-Connection

2. Medicine Rites-Accomplishment

3. Star Nations-Ancestors

Message integration: 

1. This card asks us to do some familial research (Frost, 2023). Sit with an elder and welcome family wisdom through storytelling, connecting our past, present, and future (Frost, 2023).

2. We are being guided with a sacred ceremony to celebrate our evolution (Frost, 2023). Reflect on the work that has been done, the good, the bad, and how it all comes together beautifully on our path (Frost, 2023).

3. It is time to deepen our medicine (Frost, 2023). Guidance will come in ways we least expect it, special gifts that teach us our connection, master our skills, and refine as we learn (Frost, 2023).

Healing affirmations: 

1. "The stories held in my memories are waiting to be revealed. I am a wisdom keeper for my lineage."

(Frost, 2023, p.59)

2.

"My soul has grown in leaps and bounds. I celebrate my brilliance and place in this world."

(Frost, 2023, p. 43)

3.

"I am ready to learn and deepen into my wisdom-keeping self. A higher level of guidance comes to me with ease."

(Frost, 2023, p. 91)
Personal insight:

 

1. Each day I draw, especially with a new family member or friend, I (we) are opening new portals into our souls that are stretching our hearts and opening our minds. I was in awe of the first card my niece pulled. My jaw literally dropped. I asked her to describe what she saw, "kids learning," she says. 

2. This is their very first oracle card ceremony. This card goes right along with the first one where we are learning, remembering our medicine, and rites to healing. 

3. My card, also on point as I am working with the youth of my lineage, teaching them about the medicines, and learning more myself along the way. I am truly deepening my understanding. 
Reference:
Frost, A. (2023). The sacred medicine oracle card deck & guidebook. Hay House, Inc. 
Thank you for reading about my readings,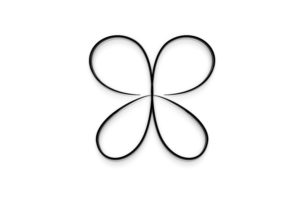 Dr. Jaime Brainerd, Ed.D.