Wednesday, July 19, 2023
Welcome back friends to Education Wednesdays on my B.R.E.A.T.H.S. blog. For this month, I am holding this space to share my financial education journey with buying and selling a vehicle. The last time I bought a car was my Ford Edge in 2010, and I had traded in a lease at the time with never having the experience of selling a car. These blog entries will be more like journal posts about the process each week with the end result hopefully selecting a business van that can be used as a dual work and living space. 
Week 3 – July 15th – 21st
The first week in July, I discussed researching the type of vehicle I want. Last week, I shared about different financing options. This third week, I will be sharing tips I gathered while on the quest to sell not only my 2010 Ford Edge, but also help my brother sell his 2005 Hyundai Tucson.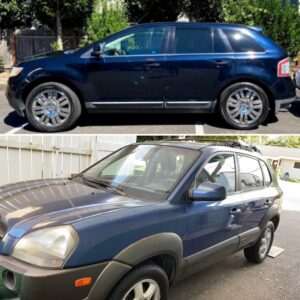 7 Steps to Selling Your Car
If you have a car that can be used as a financing option towards your new auto purchase, you should consider how you will get money for it. You can consider trading it in at an auto dealer or selling it to an individual. Most importantly, you should explore multiple offers. 
Appraising: Auto Dealership/Online Auto or RV Sales

– get an appraisal from a few dealers for a good estimate (I chose three of these below):

Setting Your Price Range

– Search for a similar car to what you are selling on each of those sites listed above, and make a list of comparable prices to give yourself a good asking price range for your vehicle. 

Collecting Vehicle Documentation

– if applicable

Auto manual

History report/Accidents

Maintenance/Repair orders

Original Sales notes

Registration

Title

Cleaning

– inside and outside recommendations

Eliminate odors 

Pre-treat heavy stains

Remove all personal items

Shampoo carpets and upholstered seats

Vacuum 

Wash

Wax

Window/Glass cleaner

Wipe down leather & plastic trip

Maintaining

– regular maintenance up-to-date

Brakes

Fluids topped off

Lights 

Tires

Windshield

Wipers

Estimating

– using your best knowledge to determine the best value for your car

Things to consider when pricing:

Age of vehicle

Mileage 

Warranty

Maintenance

Quick sale as-is

Selling

– you are now all set to sell your vehicle. Post on multiple sites if you are going the individual sale route or you can choose the dealer that gave you the best quote on your search. 

Take tons of pictures of inside and outside of vehicle

Write a detailed and honest advertisement. 

Post to popular individual sale sites (also the dealer sites listed above under appraising)

Meet with multiple people and then pick the best offer 
Conclusion on Selling Your Car
Disclaimer: I have never sold a car on my own as I am writing this post. Currently, I am going through the steps of researching how to buy and sell a car while documenting the process. However, when I do sell, I will come back and update this post on the exact steps I took to do so. 
July 19, 2023 Daily Motivation Draw 
I set up a small outdoor altar by the backyard swing on a small round glass and metal table with some fresh-picked raspberries and blueberries. I lit the candle, lit the Palo Santo stick, and started reading the invocation of Spirit from The Sacred Medicine Oracle Guidebook. I centered myself, took three deep breaths, shuffled the deck three times, cut it in half, and drew the card asking: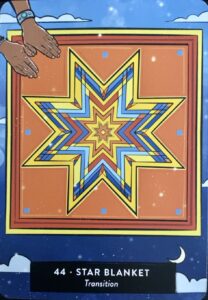 Daily Draw Question: "What medicine is being invited into my life so that I may thrive?" (Frost, 2023)

The card I drew

: 44 – Star Blanket – Transition

Message integration: The star blanket shows up as a gift of comfort and assurance as I pass through a special time in my life (Frost, 2023). This card reminds me to trust in the Creator that the process is safe and aligned to our vision (Frost, 2023). The morning star of the East is woven into the blanket to help illuminate my path and honor my transition (Frost, 2023).

Healing affirmation

: "My ancestors want what is best for me. I trust that the transition that is happening is a necessary part of my growth."

Personal insight

: Today, I asked what medicine can assist with the car buying and selling process, specifically with selling, and I got this card that lets me know I am on the right path. It is safe to let go of my past possessions. This is my time for transitioning into my new journey with my new vehicle. And so it shall be. 
Reference:
Frost, A. (2023). The sacred medicine oracle card deck & guidebook. Hay House, Inc. 
Thank you for reading and viewing,
Dr. Jaime Brainerd, Ed.D.