Saturday, July 15, 2023
Welcome back friends, to Dr. Brainerd's B.R.E.A.T.H.S. Health Saturday's edition of my blog. For the month of July 2023, I will be sharing some new healing methods to me, but have been passed down through ancient times with the teachings from new author and Indigenous Medicine Woman, Asha Frost. Each day at the conclusion of my blog, I have been posting a daily motivation draw from Asha's Sacred Medicine Oracle Card Deck that has helped me to learn more about our sacred medicine.

Remembering Animal Spirit Medicine with Asha Frost
The first Health Saturday in July, I introduced Asha's newest work, "The Sacred Medicine Oracle Card Deck which features 52 medicine cards."Last week, I shared about Ahsa's Indigenous teachings and meditations. This week I will be sharing about remembering the different teachings about animal spirit medicine through her FREE introductory quiz, teachings, a meditation, a podcast, or you can buy her NEW book and online course offered through Hay House, Inc to better understand the spirit of the animals that are surrounding us at different stages in our lives:
What is Your Animal Spirit Medicine?
Three days during the Summer Solstice this year, Asha Frost held a 3-day virtual seminar on Animal Spirit Protection to review a couple animals that she teaches about in her online course. She opened up by asking what animal medicine is showing up for us at this time? Then she explained how bear has been in her life the last 20 years helping her to heal from Lupus. That's when it struck me, bears have been around for me as well teaching me about my seasons of health specifically suffering with Ehlers-Danlos Syndrome (I lived in CA for the last 20 years which has the bear as their state animal).

Animal Spirit Protection Summer Solstice Ceremonies
Day 1: June 20, 2023 – Owl – power of sight, uncover hidden truths, discernment, connect to ancestors and amplify inner knowing

Day 2: June 21, 2023 – Wolf – guardianship, energy in throat, howling into creation, and third eye activation

Day 3: June 22, 2023 – Bear – rest, healing, miracles, courage, and getting to know inner seasons
Conclusion on Understanding Animal Spirits with Asha Frost
After the three-day ceremonies, I had a greater understanding of the animal spirit medicines that are always available to us. I just recently moved out of CA and back to where I grew up in OR and realize that the season of the bear healing is shifting for me. Now, I have taken notice of the animal that is surrounding me, the eagle, and I have a feeling this means it is time for me to soar. 
Thank you (Miigwech),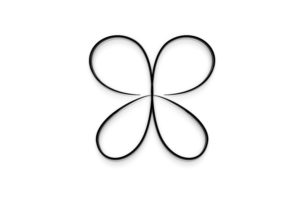 Dr. Jaime Brainerd, Ed.D.
Friday, July 7, 2023 Daily Motivation Draw 
I set up a small outdoor altar on a rectangular metal table in the grass and sunlight next to Daphne bushes with a candle, fresh-picked cherry tomato, the card deck, and a palo santo stick. I lit the candle, lit the stick, used my intuitive senses, began to read the invocation from the guidebook, and pulled the card: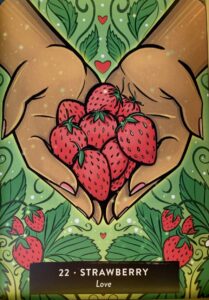 Daily Draw Question: "

What medicine is being invited into my life so that I may thrive?"
The card I drew:

22 – Strawberry – Love

Message integration:

The strawberry is also known as the "heart berry" because of its shape and is here to remind us that we are worthy of unconditional love (Frost, 2023). This card asks where we have been stuck or broken and invites the healing power of nourishing divine love (Frost, 2023). Our open hearts allow the vibration of love to flow more freely and effortlessly to help us harmonize (Frost, 2023).

Healing affirmation:

"As I welcome the vibration of love into my being, I glow with the healed heart medicine" (Frost, 2023).

Personal insight:

Love is the most powerful healing force. Today, I asked if I am in the position to soar with the eagles, then may this card I pull to give me the medicine I needed to do that. Love is the answer I received, so love is what I will give while on my flight. 
Reference:
Frost, A. (2023). The sacred medicine oracle card deck & guidebook. Hay House, Inc. 
*Disclaimer: I am not a medical professional and I am not giving any medical advice. My doctorate is in educational leadership and technology. I am a health enthusiast who feels that sharing health-related information I learn about myself might help others heal themselves through holistic care.