Saturday, July 22, 2023
Welcome back friends, to Dr. Brainerd's B.R.E.A.T.H.S. Health Saturday's edition of my blog. For the month of July 2023, I will be sharing some new healing methods to me, but have been passed down through ancient times with the teachings from new author and Indigenous Medicine Woman, Asha Frost. Each day at the conclusion of my blog, I have been posting a daily motivation draw from Asha's Sacred Medicine Oracle Card Deck that has helped me to learn more about our sacred medicine.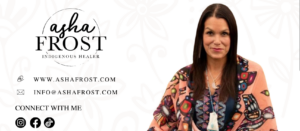 Ways to Work With Asha Frost 
The first Health Saturday in July, I introduced Asha's newest work, "The Sacred Medicine Oracle Card Deck which features 52 medicine cards."The second week, I shared about Ahsa's Indigenous teachings and meditations. Last week, I shared about remembering the different teachings about animal spirit medicine. This fourth week, I am discussing the different ways you can work with Asha Frost:
Have you been feeling a calling, a tugging at your heart strings, lucid dreams, and premonitive visions? It is your time to remember and reclaim your roots with your medicine gifts from your ancestors. You can work with Asha in two different types of mentorship programs:
Group Mentorship – 3 month healing circle, teaching modules, activation ceremonies, Q&A sessions, 2 medicine healing sessions, and a medicine bundle gift. (coming this Fall 2023, waitlist available)
Private Mentorship – 9, hour-long one-on-one mentorship sessions used over 4 months with access to Sacred Library, space holding, energetic support, and unlimited email communication. (online application available) 
Interested in introducing Sacred Medicine to a group? You can book Asha to speak at your next event. She gives a couple examples of the talks she gives but can tailor to fit the needs of the group:
You Are The Medicine

– self-reflective guided journey of remembering and reclaiming our innate medicine
Living By The Medicine Wheel –

Using the Anishinaabe Medicine Wheel to teach us about our seasons and cycles
Opening & Closing Ceremonies

– personal energy teachings on specific topics
7 Grandfather Teachings for Resilience

– guided ancestral teachings to help us thrive
Sacred Medicine Ways

– learn how to create a sacred space to help heal the body, mind, and soul with daily Indigenous Medicine Teachings
Reclaim

– 7 module Indigenous Medicine Teachings to reclaim our connection to beauty in life
Conclusion on How You Can Learn With Asha Frost
Along with the oracle cards, meditations, and animal spirit connections, Asha provides multiple ways to work with her to learn more about Indigenous Sacred Medicine Teachings. There are levels available for people just hearing about her for the first time or for people who are ready to share their own medicine with the world. Next week, I will conclude with my health blog about Asha with a review of her book, "You Are the Medicine: 13 Moons of Indigenous Wisdom, Ancestral Connection, and Animal Spirit Guidance."
Saturday July 22, 2023 Daily Motivation Draw 
I set up a small outdoor altar by the backyard swing on a small round glass and metal table with some fresh-picked raspberries and blueberries. I lit the candle, lit the Palo Santo stick, and started reading the invocation of Spirit from The Sacred Medicine Oracle Guidebook. I centered myself, took three deep breaths, shuffled the deck three times, cut it in half, and drew the card asking: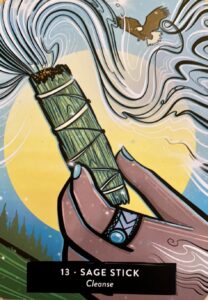 Daily Draw Question: "What medicine is being invited into my life so that I may thrive?"
The card I drew:

13 – Sage Stick –

Cleanse

Message integration:

The sage card has appeared as a gift of medicine to help cleanse my body, heart, and soul (Frost, 2023). The sage stick invites us to have reverence with this medicine and sacred practices passed down from many lineages (Frost, 2023). The scent and smoke from the sage helps me to connect  to the spirit world and receive blessings (Frost, 2023).

Healing affirmation:

"As I clear out the old, I return to balance and optimal well-being"

Personal insight:

This is the second time reading the Sage Stick draw, the first time I drew it for my friend on her birthday. This time, the message is for me, and it's a reminder I am worthy of having wonderful things. It is okay to let go of the things that no longer serve me (like me car, for example). My goal is to have my next vehicle by the end of this month. With my new ride, I shall thrive. 
Thank you (Miigwech) for reading,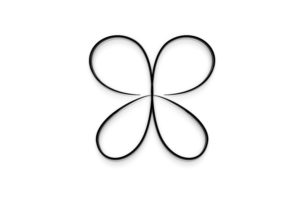 Dr. Jaime Brainerd, Ed.D.
Reference:
Frost, A. (2023). The sacred medicine oracle card deck & guidebook. Hay House, Inc. 
*Disclaimer: I am not a medical professional and I am not giving any medical advice. My doctorate is in educational leadership and technology. I am a health enthusiast who feels that sharing health-related information I learn about myself might help others heal themselves through holistic care.