Saturday, July 29, 2023
Welcome back friends, to Dr. Brainerd's B.R.E.A.T.H.S. Health Saturday's edition of my blog. For the month of July 2023, I will be sharing some new healing methods to me, but have been passed down through ancient times with the teachings from new author and Indigenous Medicine Woman, Asha Frost. Each day at the conclusion of my blog, I have been posting a daily motivation draw from Asha's Sacred Medicine Oracle Card Deck that has helped me to learn more about our sacred medicine.
Works of Asha Frost Indigenous Medicine Woman
The first Health Saturday in July, I introduced Asha's newest work, "The Sacred Medicine Oracle Card Deck which features 52 medicine cards."The second week, I shared about Ahsa's Indigenous teachings and meditations. The third week, I shared about remembering the different teachings about animal spirit medicine. Last week, I discussed the different ways you can work with Asha Frost. This fifth and final Health Saturday's blog post I am sharing my review of Ahsa's book, "You Are the Medicine: 13 Moons of Indigenous Wisdom, Ancestral Connection, and Animal Spirit Guidance."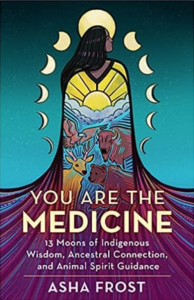 Brainerd's Blurb: "You Are the Medicine"
Asha Frost shares her story of healing combined with ancestral knowledge and over 20 years of homeopathic practice in her first book, "You Are the Medicine: 13 Moons of Indigenous Wisdom, Ancestral Connection, and Animal Spirit Guidance. In each of the chapters she describes the cycle of the moon, time of year, creation story, animal spirit, and their message during this moon phase. Weaved throughout the stories are times to pause and reflect with the medicine reflection questions. As one consumes the book, they are healing from the wisdom of our ancestors from the past and learning to integrate the messages to help illuminate our path to the future. 
Brainerd's Book Review: "You Are the Medicine"
This was the second time I read the book, "You Are the Medicine." The first time was a year ago right when it came out, I listened to the entire book through the Hay House Empower You app. This time, I listened, took notes, paused during the medicine reflections, and really took my time with understanding each of the 13 moons and the guidance they have to offer. 
Asha's healing journey is one that I could really connect with, especially when she said she didn't want to struggle or suffer any longer, and that was the shift that caused her to broaden her understanding of Indigenous medicine. I also resonated when she mentions sacred tears flowing when she prays that help cleanse energy, nourish, and teach us to be an accomplice of change, that happens to me almost every time I pray. She believes that she is a bridge between two worlds, modern and traditional, and I feel the same to be true of my trailblazing journey concerning our education systems. 
Ahsa discussed the residential schools that have had a great impact on her people. That several generations were taken from their families and never taught about their Indigenous culture, beliefs, or medicines. She has risen to the challenge of helping to listen to those lost souls and give them the voice they were denied while on this earth. 
Brainerd's 5-Star Rating: "You Are the Medicine"
| | | | | |
| --- | --- | --- | --- | --- |
| ✭Connection | ✭Healing | ✭Sacred | ✭Understanding | ✭Wisdom |
Brainerd's Conclusion: "You Are the Medicine"
After decades of practice with the 13 Moons of Indigenous Wisdom, Ancestral Connection, and Animal Spirit Guidance, Asha continues to break down barriers from years of generational trauma, connect with the pain, and heal more with every new cycle. Throughout the book, Asha graciously implements sacred invocations and ceremonies to help us gain a better understanding of the wisdom imparted from the ancestral realm to help guide us on our healing journeys. Reading, listening, and implementing these practices will help rebuild our connections that will help us to remember we all are the medicine. 
Saturday July 29, 2023 Daily Motivation Draw 
I set up a small outdoor altar by the backyard swing on a small metal table with some fresh-picked blueberries (we were out of strawberries and raspberries). I lit the candle, lit the Palo Santo stick, and started reading the invocation of Spirit from The Sacred Medicine Oracle Guidebook. On this last Health Saturday, I will draw the "Sacred Medicine Three-Card Spread. I centered myself, took three deep breaths, shuffled the deck three times, cut it in half, and drew the first card, shadow. I shuffled again and drew the second card, wisdom. Finally, I shuffled a third time and drew the light card. 
Shadow

: aspect you are not fully integrated with

Wisdom

: needed for the integration

Light

: future energies waiting to be welcomed in
Message integration:

I have not fully integrated the Full Spirit Moon, or what I need to release in order to shine. The wisdom needed for the integration is love. The light waiting to be welcomed in is my transformation. (Frost, 2023)

Healing affirmations by Asha Frost (2023):

Shadow: "It is safe to take up space. I stand audaciously and own my luminosity." 

Wisdom: "As I welcome the vibration of love into my being, I glow with healed heart medicine."

Light: "My sacred rage is needed. I am vital to the healing of this earth."

Personal insight:

 

Awe bumps or angel hugs appeared all over my body as I read the messages from each of the cards as I resonated with each message. The Full Spirit Moon has shown up several times in the last month of drawing cards. When a card shows up repeatedly, this means I have not fully grasped the integration of the message. In this case, I have not yet let myself shine. Of course, my shadow card happens to be the card that appeared the most! 

The way I am going to fully understand these messages is through love and compassion. This is the second card I have received more than one time as a reminder that I am missing the integration. Love is the answer and the most powerful force to help me better receive these messages. 

The third draw for my light card is a new one for me, and I am delighted it comes as the spark (this card keeps giving me awe bumps, especially on the right side of my body). This is my time for transformation and I can already see the changes this sacred medicine has brought to me. I am so grateful for these messages and I am ready to be a vital force of healing on this earth. 
Thank you for reading,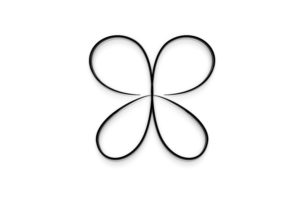 Dr. Jaime Brainerd, Ed.D.
Reference:
Frost, A. (2023). The sacred medicine oracle card deck & guidebook. Hay House, Inc. 
*Disclaimer: I am not a medical professional and I am not giving any medical advice. My doctorate is in educational leadership and technology. I am a health enthusiast who feels that sharing health-related information I learn about myself might help others heal themselves through holistic care.