Saturday, July 1, 2023
Welcome back friends, to Dr. Brainerd's B.R.E.A.T.H.S. Health Saturday's edition of my blog. For the month of July 2023, I will be sharing some new healing methods to me, but have been passed down through ancient times with the teachings of The Sacred Medicine by Asha Frost. This first Health Saturday, I will be introducing how I came across Asha's work, how I will be using The Sacred Medicine Oracle Card Deck each day this month, and paraphrasing the meaning from her accompanying guidebook.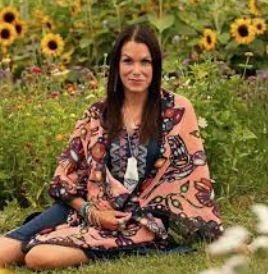 Introducing, Asha Frost, Rainbow Medicine Woman & Spiritual Healer
Last year in 2022, I was browsing through my Hay House Empower You app seeking healing knowledge that comes from deep rooted history, when I came across Asha's first book, "You Are the Medicine: 13 Moons of Indigenous Wisdom, Ancestral Connection, and Animal Spirit Guidance." After listening to the book, I learned she had a similar health journey, and I was curious about the healing methods she used. What I learned is that we are all connected to the same energy, and that is the divine force within that helps us to heal ourselves and others. Asha's journey helped her to heal from Lupus, and she's now sharing her story through indigenous teachings with her oracle cards, guided meditations, books, courses, and sacred ceremonies that will help others connect with their healing journey as well. 

The Sacred Medicine Oracle Card Deck
This year in 2023, Asha Frost translated ancient teachings from her Indigenous ancestors into a beautiful set of "The Sacred Medicine Oracle Card Deck & Guidebook" with 56 cards and artwork by Steph Littlebird (Frost, 2023). The deck was created to embody the ancient medicine consciousness, to help us unlock a deeper meaning on our healing journey, and to reconnect with our true purpose (Frost, 2023). The energy is alive in "The Sacred Medicine Oracle Card Deck & Guidebook," and I will be drawing a daily card to reawaken divine wisdom, power, and teachings from our ancestors, as well as our animal spirit guides (Frost, 2023).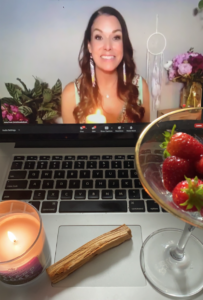 How to Begin a Sacred Guidance Ceremony
When I was attending an online ceremony with Asha, she had us prepare an altar before beginning with gifts to the spirits (strawberries for the Summer Solstice ceremony), a candle, and some sage/palo santo/sweetgrass for carrying our messages to the spirit world (Frost, 2023)

Prior to starting, light smoke medicine, and hold the deck in your hands (Frost, 2023). 

First, use your internal guide (intuition) to ask spirits from the deck to appear (Frost, 2023). 

Next, speak your intention and what you desire from the deck, and wait for a feeling, sensasion, words, or numbers (Frost, 2023). 

Then, initiate conversation with the spirit world with a prayer, or The Sacred Medicine Oracle Invocation listed on page 8 of the guidebook (Frost, 2023). 

Finally, be grateful for the wisdom and teachings the medicine is providing (Frost, 2023). 
Tips on Sacred Ceremonies
Self-regulate from center – start from a place a peace and love, deep breaths, and bring awareness to the heart (Frost, 2023)

Integrate the message – each pull or spread holds sacred communication from the spirit world to our higher self, and requires time time understand the meaning from the healing wisdom (Frost, 2023)

Interpreting reversals – simply means to go deeper with sacred practices: breathwork, grounding, salt baths, etc (Frost, 2023)

Types of Sacred Medicine Card Draws/Spreads
Sacred Medicine One Card Draw
– used with specific question, concern, inspiration, or guidance when transitioning into a new season or cycle (Frost, 2023):
Sacred Medicine Three Card Spread
– used when specific guidance is needed around how to transform energy from chaos to clarity (Frost, 2023).
Medicine Wheel Spread
– used when you are transitioning or creating a new dream to help plan for what is to come (Frost, 2023).
Ancestral Spread
– used to provide medicine to clear ancestral and familial traumas, and visions of how to break the cycles (Frost, 2023).
Conclusion on Sacred Medicine Oracle Card Deck
Each day this month, I will have a Sacred Guidance Ceremony for a Daily Motivation Draw to practice receiving the card messages and daily medicine. Then, I will post the reading to the bottom of each blog post. Each Health Saturday, I will share some other Indigenous teachings from Asha Frost, as well as post a different type of Sacred Medicine Spread from her Oracle Card Deck. 

July 1, 2023 Daily Motivation Draw 
I set up the small outdoor altar on the grass with a candle, fresh-picked strawberry, the card deck, and a palo santo stick. I lit the candle, lit the stick, and read the invocation from the guidebook. When I stared at the guidebook next to find the Daily Draw Affirmation, the letter "G" was bold on all the pages. As I flipped through the book, I kept seeing "ing" which indicates the spirits are telling me to take action.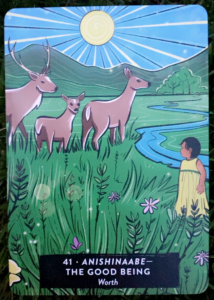 Daily Draw Question: "What medicine is being invited into my life so that I may thrive?"
The card I drew: 41 – Anishinaabe – The Good Being (worth)

Message integration: We are all born pure and good, created from divine breath, we are perfect with no need to change or fix ourselves (Frost, 2023). We are being called back to our true selves and unlearn our beliefs about what being good really means (Frost, 2023).

Healing affirmation: "I am inherently good, and I infuse my child self with this truth" (Frost, 2023, p. 101)

Personal insight: I set up the altar in the grass as I am learning something new from my surroundings. The card presented itself in a similar way, a gathering of innocence in a field of grass, learning from one another as light shines upon us. I am good, I am healed, I am.
Thank you for reading and viewing Asha Frost Oracle Cards!
Sending lots of love and light,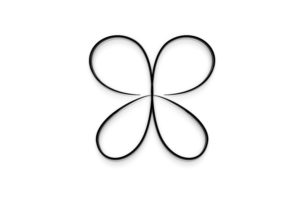 Dr. Jaime Brainerd, Ed.D.
Reference:
Frost, A. (2023). The sacred medicine oracle card deck & guidebook. Hay House, Inc. 
*Disclaimer: I am not a medical professional and I am not giving any medical advice. My doctorate is in educational leadership and technology. I am a health enthusiast who feels that sharing health-related information I learn about myself might help others heal themselves through holistic care.