Monday, April 17, 2023
Welcome back gorgeous to Beauty Mondays B.R.E.A.T.H.S. blog where I discuss different Beauty Society products and tools. For the month of April I will be sharing some specials, our subscriptions, advisor options, and our eco-friendly products. The first week, I shared about Beauty Society specials, points, and perks. Last week, I introduced you to two Beauty Society subscriptions: Beauty Box and Infuse HA. This third week I will describe the details on becoming a Beauty Society customer or advisor.

Becoming a Beauty Society Customer
When you first enter my Beauty Society Link, a pop-up will appear for 20% off stating "We'd like to get to know you!" and has the option to choose customer or advisor and has a place to enter your email address and continue. When you sign up for our email list, you should promptly receive an email back with a code to unlock the 20% offer for your first order. When it's time to shop, you will enter the code at checkout. But first, take our quizzes to help you decide which Beauty Society products would be the best fit for you to shop for.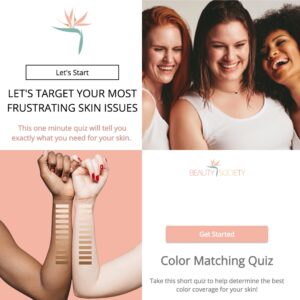 Quizzes: Where Customers Should Start
The top right tab labeled "Quizzes" is where you should begin to check for your skincare or skin color matches. The skincare quiz will help you determine what skincare products would work best for your skin type. The skin color quiz will help match the best cosmetic colors that work best for your skin tone. 

Contact our Concierge for Free Customer Regimen Assistance
After taking the quizzes and before you make a purchase, if you would like some extra assistance on choosing the best products for your skincare regime, you can contact Beauty Society Concierge for a free 20 minute consultation . You can book a time on our link to chat with a representative during a Zoom call. First, you choose your time zone from the drop-down menu, then enter your information, and finally you will get a confirmation email. 

Shopping as a Beauty Society Customer
When you are shopping as a Beauty Society Customer, you will first enter our Specials page with our discounted items and experiences. The second menu features our NEW products. The third menu has our Beauty Box experience to try it out or subscription with the Society + Membership. The fourth menu is the Skincare line where all the products have a 12 month money-back guarantee. The middle three menus will link you to our cosmetics with a one month money-back guarantee for: lips, face, and eyes. The last three menus will link you to: beauty tools, hair & body, and fragrance. 

Becoming a Beauty Advisor
Whether you are interested in just receiving that advisor discount of 25% off all orders and 50% off the monthly product, or leveraging the business to build your own legacy, you can join Beauty Society as an advisor with no hassles, no inventory, and no shipping. The start-up cost is only $59 for our legacy kit and that includes: some of our favorite products, a start-up guide, and a one time coupon for 60% off retail price to help you build your own skincare regime and makeup collection. Before you decide to join our team, you can call our concierge for free guidance. 

Contact our Concierge for Free Advisor Assistance
There are three types of advisor appointments you can choose when communicating with Beauty Society Concierge: New Advisor Group Call for a 30 minute Zoom chat, New Advisor Individual Call for a 20 minutes Zoom chat, or a 20 minute Zoom chat to discuss the benefits of an advisor if you are Interested in Joining. Come to any of the concierge calls with questions and we would be happy to share our Beauty Society mission. 

Beauty Society Advisor Portal
As soon as you become a Beauty Society Advisor, you will receive an advisor number you will use every time you login. This will give you access to your back office Beauty Society Advisor Portal which is free for the first three months, and only $9.99/mo as a recurring monthly fee on the first of every month. This is the only recurring fee to remain an advisor for the following purposes:
Sign up for Beauty Convention

See our monthly sponsoring Fast Start Incentives

Receive the discounts when you make personal orders

View your business bank (profits are 25%-55% paid weekly)

Manage your profile, team, and customers

Check out compensation, reports, broadcast messages, and resources

Complete Beauty Society University to learn about our products and services

Contact information

Manage parties

See messages from corporate

Visit the lead center

Shopping as a Beauty Society Advisor
When you first sign up, you will get a 60% discount on retail pricing for your very first order. It is recommended to call our concierge to assist you with this first purchase to help you get the best for your buck. On your next purchases, you will login to the Beauty Society Advisor Portal and access your Personal Orders tab. This is where all the products are priced with the 25% off advisor discount (50% off for the product of the month), and free shipping is offered on all orders over $50. You can also use coupons (like the one that comes with the monthly Beauty Box subscription), product promotions, and cart rewards to save even more on your personal order.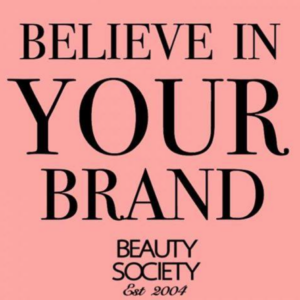 Conclusion on Becoming a Beauty Society Customer or Advisor
Since 2004, Beauty Society has been making an impact on the beauty world with our commitment to environmental responsibility with our refill products, top of the line ingredients, and empowering women with the help of our founder and my friend, Jeanie Lorin. Whether you want to start off as a customer or jumpstart your own business as an advisor, Beauty Society has you covered. 
Thank you for reading and viewing,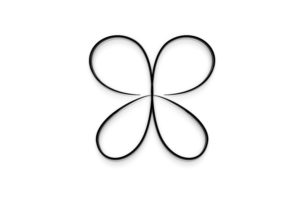 Dr. Jaime Brainerd, E.d.D.
*Disclaimer: I am a Beauty Society advisor, when you click on the links provided you will be directed back to my Beauty Society website where I do make a profit off the retail amount, however, there will be no extra charges to you. If you are interested in purchasing the products at a discount, you can sign up as an Society+ Member or Beauty Advisor to save an extra 15-25% off everything, and 50% off our product of the month.