Monday, April 10, 2023
Welcome back gorgeous to Beauty Mondays B.R.E.A.T.H.S. blog where I discuss different Beauty Society products and tools. For the month of April I will be sharing some specials, our subscriptions, advisor options, and our eco-friendly products. Last week, I shared about Beauty Society specials, points, and perks. This second week, I will introduce you to two Beauty Society subscriptions: Beauty Box, Infuse HA, and our Society + member benefits. 

Beauty Box Subscription
Introducing Beauty Society's Beauty Box Subscription that is processed on the 15th of the month for only $60 (15% off that price for advisors). Each Beauty Box is themed and comes with an assortment of full-size and travel-size products, samples, beauty tools, makeup, discount codes, and at least one NEW product each month. To start out and become a Society + member, customers must FIRST purchase the Beauty Box Experience for $29, and it comes as a sneak peak of what you will receive with the Beauty Box subscription. Check out some of Beauty Society's unboxing videos from our past Beauty Boxes.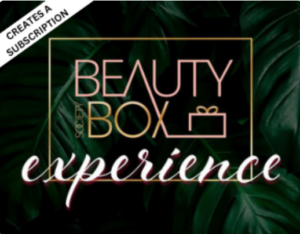 Beauty Box Experience
In order to become a Society + member and receive all the discounts, you must FIRST purchase the Beauty Box Experience. After this purchase, all your next orders will have the Society + discounts and benefits. Here is what comes  in the Beauty Box Experience:
– 1 Full Size Immortal Eyes Eye Creme Gel
– 1 Beauty Society 'Swag Item'
– 5 Beauty Society 'Travel Size' products
– 1 BeautyBox Experience Pamphlet 
– 1 Promo Code for $10 off a $30 order
– Free Shipping on the Experience Box Purchase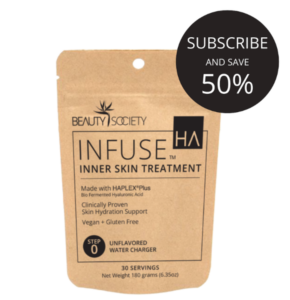 Infuse HA Subscription 
One of our newest skincare products starts from the inside-out with Infuse HA Inner Skin Treatment. The Infuse HA single purchase of a 30 supply is $79.90, but you can subscribe and save 50% off and receive a monthly supply Infuse HA subscription for $39.95. If you are curious about trying it and starting a subscription, you FIRST purchase the Infuse HA Experience for only $19.99 to get a 10 day supply.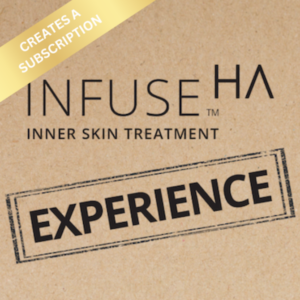 Infuse HA Experience
So what is Infuse HA Experience? Just like the Beauty Box Experience, this one time experience will introduce you to Infuse HA and you also become a Society + member and start your Infuse HA subscription (you can cancel anytime before the 15th of the month). Infuse HA is a powder substance you add to water that has the active ingredient of HaPlex Plus that increases your skin's moisture and elasticity after 180 days of continued use (do this with Infuse HA subscription). This product is proven to prevent signs of aging, decreases stress levels and tissue damage, hydrates, and plumps the skin. 

Society + Member Benefits
You can become a Society + Member once you shop and subscribe, have purchased either the Beauty Box Experience, or the Infuse HA Experience, and then start receiving all the perks. Society + Membership is free to join, you can cancel anytime, and can skip subscriptions. Here are the Society + Member benefits:
– 15% off of retail pricing on all future orders
– Receive Free shipping on all orders over $50, and discounted shipping of $5.95 on orders below $50
– 50% off on all Product of the Month Specials
– No fees! Remaining a Society+ member is completely free. Just keep an active subscription on your account, and you get all these benefits for free!
Thank you for reading and viewing,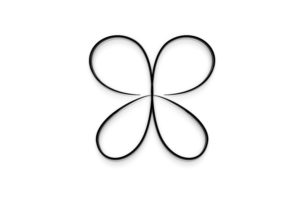 Dr. Jaime Brainerd, E.d.D.
*Disclaimer: I am a Beauty Society advisor, when you click on the links provided you will be directed back to my Beauty Society website where I do make a profit off the retail amount, however, there will be no extra charges to you. If you are interested in purchasing the products at a discount, you can sign up as an Society+ Member or Beauty Advisor to save an extra 15-25% off everything, and 50% off our product of the month.