Friday, July 29, 2022
Welcome to my Travel Friday's B.R.E.A.T.H.S. blog post. This is the space where I will be sharing my traveling adventures, more specifically with exploring the National Parks and collecting cancellation stamps in my NPS Passport book. During the month of July 2022, on Fridays I will be sharing some of my favorite National Parks that I have visited and camped or stayed near.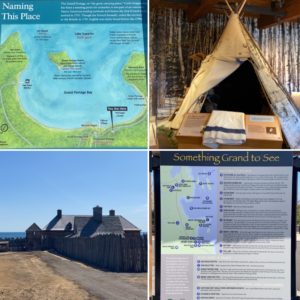 National Parks Spotlight
The first week in July I shared the spotlight on Mount Rainier National Park. The second week, I posted about my family camping trip and visit to Lewis & Clark National Historic Park. I missed posting last week due to being at a conference, but this final week I am sharing about my unique experience at Grand Portage National Monument with my bestie from Minnesota.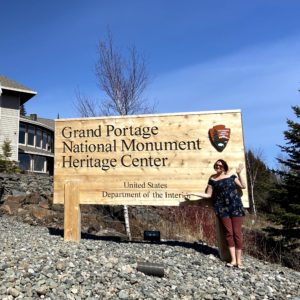 Grand Portage National Monument
Located at the tip-top Northeast corner of Minnesota right at the border where the Pigeon River separates the United States from Canada is Grand Portage National Monument. On April 3, 2021, we drove from Minneapolis along Lake Superior to Grand Portage to get our National Parks Passport cancellation stamps. The sun was out but there was still snow, I did not bring proper footwear (see flip flops in pic above), but we were able to walk around some of the local trails, take pictures and videos of the amazing views, and experience some interesting encounters.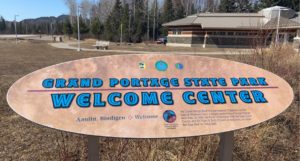 International Exchange at Grand Portage State Park
As we were well over a year into the covid pandemic, the USA and Canadian borders were still closed for travel, so making international contact was a high point of our trip. My friend and I were alone, just messing around, and throwing rocks across the river with one hitting the bank of the Canadian side, when two young men came out of nowhere to see what the noise was. I asked them to throw rocks back over, they both did, and their rocks missed landing in the middle of the river. I threw once more and my second rock landed right between them. Two points USA, zero Canada, lol (go to 3 min mark in the video to see the footage)!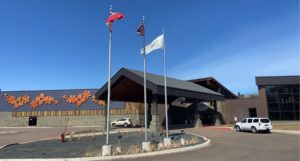 Conclusion on Grand Portage, MN
We stayed at the Grand Portage Casino located on the edge of Lake Superior. We explored the evergreen hills, the raging waterfalls, and learned about the history of the natives and settlers who occupy the land. There are still about four more National Parks to visit on Lake Superior, and one really close to Grand Portage (Isle Royale), so I am sure I will be returning for more NPS Passport Book travels.  Below is a 4 min video with no music. I just threw this together quickly since most of the video footage was shot vertically through Snapchat. 
Thank you for reading and viewing, 
Dr. Jaime Brainerd, Ed.D.