Thursday, July 28, 2022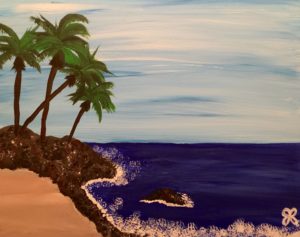 Welcome to my Art Thursdays B.R.E.A.T.H.S. blog post where I invite you into my private art studio, Brainerd's Brushstrokes AND Photography/Videography! This year for my art blogging, I am combining a few of my creative skills with painting acrylic on canvas and snapping pics and videos on my iPhone. For the month of July 2022, I will be sharing my Tropical Island Series of paintings, photographs, and videos from a variety of my Hawaiian island visits.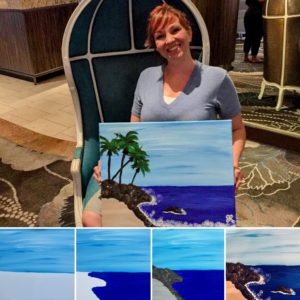 "Rocky Beach Palms" was painted by me on July 27, 2016 at "Sip" Restaurant located inside the Renaissance Hotel,  in downtown Long Beach, CA with Brushstrokes & Beverages. I chose this painting to share because most of the beaches on The Big Island are rocky due to volcanic activity. It's called The Big Island for good reason as it houses two of the world's largest mountains measured from base to summit, dormant Mauna Kea (world's tallest mountain), and active Mauna Loa (2nd most voluminous mountain). I took the picture below five years AFTER I painted the picture above and I think it is amazing how close they match!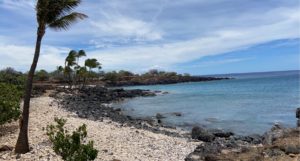 First Time to The Big Island
The Big Island is the third island I have visited in the Hawaiian Islands, and I had the blessed opportunity to stay there for the first two weeks of July 2021 to celebrate my doctoral graduation. My friends from high school hooked me up with an amazing hotel on the North Shore in Hawi, and I borrowed their van to get around the island during my stay. I was able to blog about my stay last year, so you can catch more details in my Jaime in Hawaii in July series.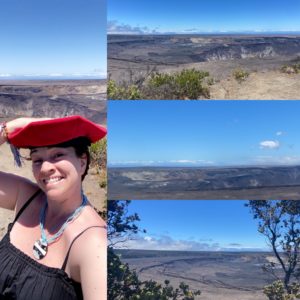 Brainerd vs The BIG Island
During my two weeks on The Big Island, I had a handful of epic adventures, and took lots of pictures and videos. Starting the first day with my trip to the Hawaii Volcanoes National Park and experiencing such strong winds that it blew the driver's door off the vehicle I was borrowing from my friends. We managed to get the door back on and I used the passenger door the rest of my trip visiting every corner of the island.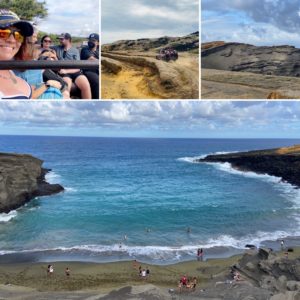 Beautiful Big Island Adventures
On The Big Island, I had the opportunity to visit five National Parks and some of them with my friends. I spent at least one day at Kona on the West shore, and one day at Hilo on the East shore. My favorite part of the island is the South, where I drove three times: the volcano was first, then the Southernmost Point with an ATV ride to a green sand beach, and then my trip to the natural Pohoiki Bay Hot Spring at Isaac Hale Beach. Most of the time, I hung around the quiet hotel along the North shore cliffs peering at the island of Maui (I have yet to visit), and enjoying the unique beauty of the Hawaiian flora and fauna.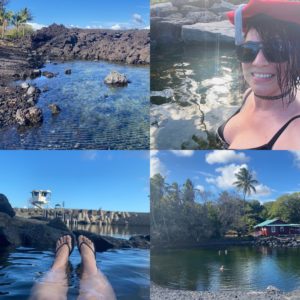 Aloha, Big Island
Saying Aloha to my first visit to The Big Island, hopefully it's not my last. I did create an extended cut video of my trip but unfortunately it was too long and kept crashing Youtube when I tried uploading it, so I will try to post it again later. There are still a couple more islands and Hawaiian National Parks for me to visit, so please stay tuned for more Brainerd's Brushstrokes & Photography/Videography around tropical islands!
Thank you for reading and viewing,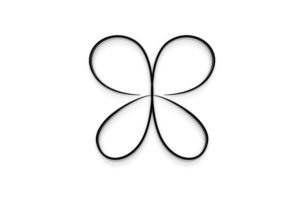 Dr. Jaime Brainerd, Ed.D.