Friday, July 15, 2022
Welcome to my Travel Friday's B.R.E.A.T.H.S. blog post. This is the space where I will be sharing my traveling adventures, more specifically with exploring the National Parks and collecting cancellation stamps in my NPS Passport book. During the month of July 2022, on Fridays I will be sharing some of my favorite National Parks that I have visited and camped near. For this week, I will be sharing about a National Park and State Park located here in the Pacific Northwest (PNW) where I camped with my family near Astoria, OR, Fort Stevens State Park Campground and Fort Clatsop with Lewis & Clark NHP.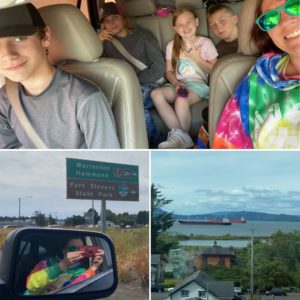 Visiting Fort Stevens State Park & Campground
On June 10, 2021, the kids last day of school, we wanted to celebrate and decided to go camping for the night at, and see Lewis & Clark NHP on our way back home the next day. Our family has been to this campground several times because it is located at the Pacific Ocean beach with an old shipwreck we can see called, Peter Iredale. There are also lots of hiking/biking trails and some old military forts and batteries that are fun for exploring for all ages and a ton of fun for our family. There is a lot to learn from this Fort Stevens State Park Historical Military Site as well as the shipwreck, and National Park located within the same area.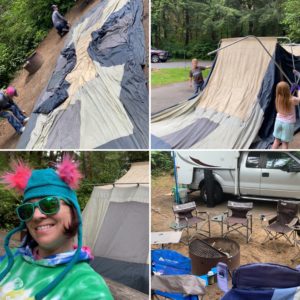 Exploring the Peter Iredale Shipwreck
Along with the rich military history of the old forts and batteries, there was the nonmilitary wreck of the Peter Iredale ship on Fort Stevens Beach, October 25, 1906, making it a popular tourist attraction. It was sunny and about 72 degrees with low breeze, so we hiked to the Iredale from our camping spot at Fort Stevens Campground. Along the trails we found some hiking sticks, rolled down the sandy hill at the beach, splashed in the ocean, explored the shipwreck, and watched the sunset. We had such an amazing time.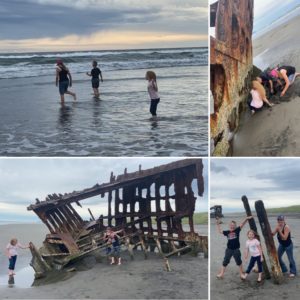 Camping at Fort Stevens State Park
Playing at the beach was a great idea to celebrate the last day of school! We hiked back to our campsite and cooked hot dogs for dinner.  For dessert, we roasted chocolate centered marshmallows and smooshed them between graham crackers for some delicious campfire smores. We played some Farkle (or 10,000) until we could barely keep our eyes open. Around 11pm, we headed to our sleeping bags to sleep under the stars, or in our case, tents, cars, and trailers because it was forecasted to rain that night, and it did, in true Oregon fashion.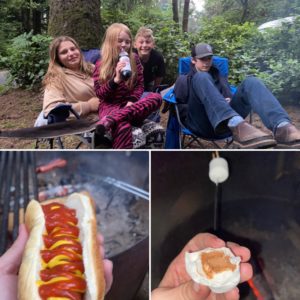 Visiting Lewis & Clark NHP at Fort Clatsop
On June 11, 2021, after we packed up camp and left the state park, we headed to Lewis & Clark National Historic Park, located just a few miles away at Fort Clatsop in Astoria, Oregon. Before we left, the kids wanted to explore Battery Russel, an old cement fort used by the National Guard. The kids like to run through it playing tag and scoping out the neat views. The Lewis & Clark NHP is huge and covers both Southern Washington state, and Northern Oregon state. We only visited the Oregon side for this trip. This site is also pet friendly, so we brought our lovely pooch, too! The park ranger told us we came on the perfect rainy day because we would experience it very much the same as the early settlers did when they first arrived to this wet but very lush green portion of the United States.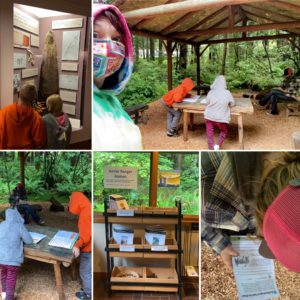 Checking Out Variety of Junior Ranger Programs
When we got to Fort Clatsop, we went to the Visitor's Center to pick up our Junior Ranger booklets (you can email them to get a virtual booklet, see link) for all ages, and as an adult, I love completing these activities with the kids, too. There was one other booklet they had given us that I have not seen before, was a Junior Ranger Activity Journal to follow along the Lewis and Clark National Historic Trail or you can follow along as an Online Junior Ranger. This journal was very similar to the booklet activities, but higher quality made with colorful cardstock, and a little bit different pledge. They even have extended programs like a detailed Virtual Park of Fort Clatsop online (good for homeschool, review of the park, or rainy days), a nature and science program, a cell phone audio tour of the park, and for youth 15+, a Junior Ranger Conservation Corp that pays minimum wage.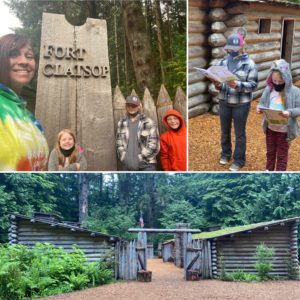 Touring Lewis & Clark NHP
After picking up the booklets, we walked around the museum inside the center trying to find information to complete their booklets. Next, we ventured outdoors to the area that has a replica that resembles life back in the winter of 1805-1086 that Lewis and Clark made at the end of the Oregon Trail in Fort Clatsop. We walked through old rooms and around the outside to see how the pioneers lived back in the day. We also learned about the different Native American tribes who first lived in that area before the settlers arrived.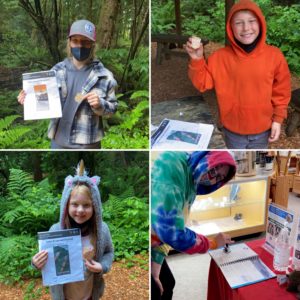 Earning Junior Ranger Badges & Stating Pledge
While we were at Lewis & Clark NHP, we were able to earn a Junior Ranger badge for that location. When you visit the site or this website, you will find activities for all ages, including an area to plan educational field trips. We completed our booklets and opened the envelopes attached to retrieve our Junior Ranger Badges. We filled out the certificate on the back of the booklets, then recited the Junior Ranger Pledge:
I, Brainerd Family, promise to:
Preserve and protect our parks

Care for my natural and historical surroundings

Share what I have learn about the parks with others

Continue to explore these treasures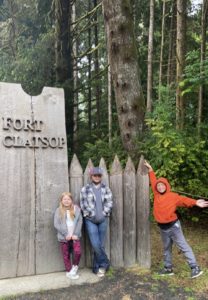 Conclusion on Lewis & Clark NHP
We had an educational time exploring the Lewis & Clark NHP Oregon side, however, we still have to plan another trip to see the Washington side of the park. That will be fun to plan since we obviously love to go camping, especially at the beach. This place is great for kids to learn about our nation's history, play at the beach, hike on nature trails, explore old forts, and participate in a variety of Junior Ranger Programs. We hope we have inspired you to check this location or any other of the National Parks© Service Programs.
Thank you for reading and viewing,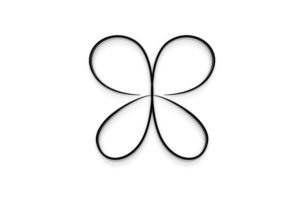 Dr. Jaime Brainerd, Ed.D.