Friday, October 28, 2022 
Welcome back tourists, to my Travel Friday's B.R.E.A.T.H.S. blog where I share my traveling experiences from driving to National Parks from September 2020 to June 2022 for educational research. This month of October on the 10th recognizes Indigenous People's Day, so I have dedicated four Friday's to discussing some of the Indigenous American National Parks I visited in the last couple years. A few of the sites are admired for their majestic beauty, while others honor lives lost in the area, and I am sharing them to provide a glimpse into our Indigenous American history.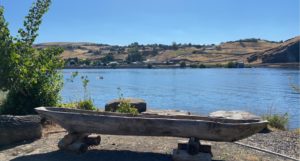 Indigenous American Awareness
The first week in October, I wrote a spotlight on Pipestone National Monument, an active site that is still quarried by federally recognized tribes. The second week, I retold the story behind Whitman Mission National Historic Site that ignited tension between missionaries and Native Americans. Last week, I shared the history behind the name of Devil's Tower National Monument that was changed by White explorers just over a century ago. This final week, I will cover two different Indigenous American National Parks, Nez Perce NHP (another active site to local tribes) and Sand Creek Massacre NHS (honoring lives lost).

Nez Perce National Historic Park
On June 16, 2021, my parents and I hopped in the camper to check out some National Parks in the Pacific Northwest and came across Nez Perce National Historic Park that has thirty-eight locations spread across four states of: Oregon, Washington, Idaho, and Montana. We intentionally stopped at the visitor center in Lapwai, ID, to learn more about the area. When we arrived, we were greeted by a local from the Nimiipuu (Ni-mi-pu) tribe who wants to pass on her oral traditions to the visitors.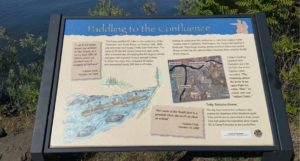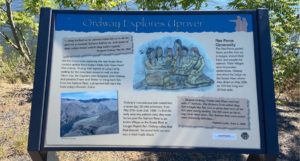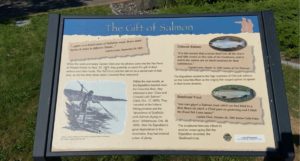 About Nez Perce Tribes
What I learned is that many other tribes who were wiped out during the Westward Expansion, the Nez Perce tribes, narrowly survived their displacement to reservations by adapting to multiple visitors including explorers, missionaries, federal military troops, gold seekers, and now tourists like me. The first explorers the Nez Perce encountered were Lewis and Clark in the early 1800's (NPS, 2020) as they were friendly and embraced the expedition. Then beginning in the 1830's, the Mission Era brought Christian groups like the Presbyterians Spaldings & McBeths, the Smiths who learned the Nez Perce language and had encounters with the Whitman's, and the Cataldo's who came to establish Catholicism amongst the Nez Perce people (NPS, 2020). The settlement of the Oregon (1848) and Washington (1853) territories started a chain of treaties that ultimately wiped out all but 10% of the Nez Perce land by creating new reservation boundaries and forcing them off their homeland (NPS, 2020). This led to the 1877 Flight of the Nez Perce as they fled toward Canada for refuge, lost many lives, surrendered to US troops, and then were exiled away from their families to Kansas and Oklahoma territories. By 1885, Chief Joseph finally convinced the US government to move back to their rightful homes in the Pacific Northwest (NPS, 2020).
My Perspective After Visiting Nez Perce NHP
After roaming around the visitor center looking at museum artifacts, watching the park video, and speaking to one of the Nimiipuu tribal members, I have a lot of respect for what their people endured. The Nez Perce are proud people who embrace the legends passed down through oral traditions showing their love for the sacred homeland that provides them food like deer and salmon, waters from multiple rivers, and shelter from the mountains. I could tell from talking with the tribal member that they are still very much alive and grateful for those who survived so that they can continue to share their traditions with the new generations. 
About Sand Creek Massacre National Historic Site
I am retelling another story where Federal Government troops uprooted American Indian Tribes at Sand Creek in SouthEastern Colorado, that eventually led to several conflicts over the next century. With the broken peace treaties between the government and natives, combined with the pressure of the Civil War, and settlers headed West for gold, the Plains Indians were struggling to keep hold of the natural resources they have lived with for centuries as the Homestead Act was put into place (NPS, 2022). However, the breaking point happened a few years later on November 29, 1864, as Federal Troops carried out an unprovoked attack on two innocent Plains Indian tribes (Arapaho and Cheyenne), wiping out over a quarter of the community, and breaking all trust in their relationship (NPS, 2022).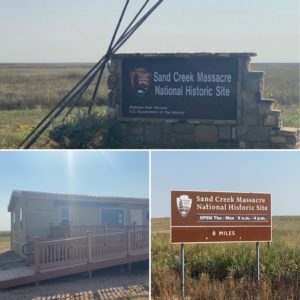 My Perspective After Visiting Sand Creek Massacre NHS
Before I head to any park, I am sure to check the NPS app for hours of operation, location, directions, things to do, important alerts, weather updates, or road conditions. On September 9, 2021, I literally drove for hours along dirt roads with nothing but tall grass, scattered brush, and a few sunflowers in the Eastern Plains of Colorado, to find the site of the Sand Creek Massacre NHS. When I got to the location, there were no clouds in the sky, I was greeted at the visitor center by a couple park rangers who insisted I go inside for more information about the park, and I did not have to wear a face mask to enter (Covid policies were easing up at this time). After learning about the tragic event, which I don't remember reading about in school, I wondered how many more places there were like this, and I was compelled to visit more locations to do research so I can learn how to educate others on how we can work together to make amends. 
Conclusion on Indigenous American Awareness
For thousands of years, Indigenous American Tribes lived and hunted the lands freely, until the expansion of colonialism reached across North America in the last few centuries when they were stripped from all their lush expansive natural resources and forced to live in desolate deserts scattered across the new states. While the US government has attempted to make reparations by preserving federal lands as national parks, creating federal holidays such as Indigenous People's Day, and educating the public in our schools, there is still more to be done in the land back movement. In the meantime, I will continue to research the history and culture in order to honor and preserve the Indigenous American cultures and legacies. 
Thank you for reading and viewing,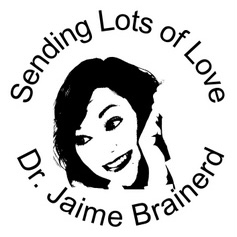 References:
National Park Service. (2020). Nez Perce: History & culture. https://www.nps.gov/nepe/learn/historyculture/index.htm
National Park Service. (2022). Sand Creek massacre: History & culture. https://www.nps.gov/sand/learn/historyculture/index.htm