Tuesday, July 5, 2022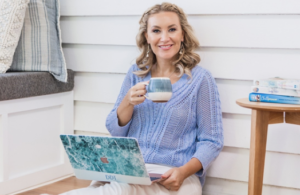 Welcome to my Reading Tuesday's B.R.E.A.T.H.S. blog. In my previous reading blogs, I focused on one of my favorite authors, Jim Kwik for his "Limitless" book and courses in speed reading and memory recall. This month, I am putting the author spotlight on another best selling author,  Denise Duffield-Thomas!, creator of three seriously awesome money mindset books I can't put down, and a NEW one on the way!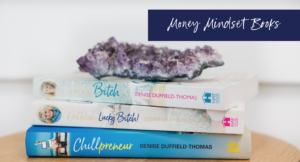 Manifesting My Favorite Author, Denise DT
While on my tour around the United States from September 2020 to June 2022, I listened to literally hundreds of audiobooks from my favorite book publisher, Hayhouse. They had just released Hayhouse Unlimited Audio App in 2020 (Now called, "Empower You" in 2022) that featured audiobooks, meditations, podcasts, including radio shows from the past featuring Louise Hay herself (now deceased), and immersive learning from all their best-selling authors. This is where I found all three of *Denise DT's books about manifesting money: "Lucky Bitch," "Get Rich, Lucky Bitch!", and "Chillpreneur."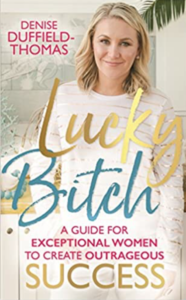 Listening to "Lucky Bitch"
As I listened to most books, I would voice record notes while driving. The first book I listened to (the title caught my attention), was Denise's first book, "Lucky Bitch." I had so many notes and had to go online to check out the extra resources and take her actionable steps to improving my money mindset. Even though I was on the road, I signed up for her email list to receive the extra goodies and bonus materials from the book. I started practicing what she was preaching and my manifesting and mindset skills were improving quickly.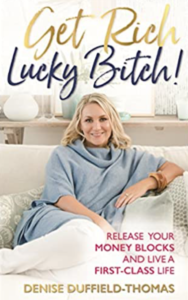 Gaining Money Mindset with "Get Rich, Lucky Bitch"
Now that I was manifesting more, I had to get into a better money mindset, and I did that with Denise's second book, "Get Rich, Lucky Bitch." I was ready to upgrade everything in my life, but that meant a lot of work with forgiving, decluttering, releasing money blocks and being open to receiving. Her books and bonus materials helped me to change my mindset and my life.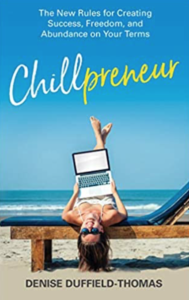 Creating New Companies With "Chillpreneur"
While I have not made millions or even thousands of dollars yet, I have been starting up new companies the last couple years with two in nonprofit and two for profit businesses. I used Denise's "Chillpreneur" book as a blueprint for how I want to manage my companies. After reading her first three books, writing dubious notes, and taking loads of action steps, I was still needing some help with making money.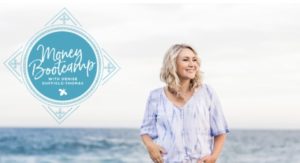 Joining Money Bootcamp w/ Denise DT as My Money Mindset Coach
Once I listened to her books on the Empower You Hayshouse App, I downloaded all three of Denise's books into my Kindle so that I could read them anywhere or anytime with any of my electronic devices. I followed her on all her social media accounts, listened to her "Chill & Prosper" Podcast to get boosts of inspiration, modeled her suggested actions in her books, interacted through her newsletter, and was recently invited to join her Money Bootcamp at the end of June. I am so happy and grateful to have found Denise's books and courses, and excited to share my money manifesting journey with her and you!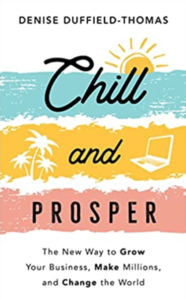 NEW "Chill & Prosper" Money Mindset Book
After publishing three successful money mindset books, Denise has grown her multi-million dollar businesses, and was able to repeat her money mindset processes with ultimate success prompting her to create a new book about it. She took her last book, "Chillpreneur," and updated it by making a NEW version (named after her popular podcast), "Chill & Prosper: The New Way to Grow Your Business, Make Millions, and Change the World." Her new book is released in a few weeks on July 19, and you can preorder "Chill & Prosper" now to get a bunch of her FREE goodies! I can hardly wait to get my hands on a copy so I can grow my businesses, make millions, and change the world like my mentor, coach, and favorite author, Denise DT!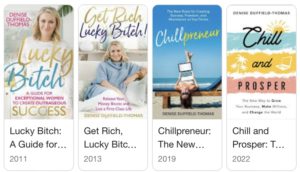 Conclusion
During this week's author spotlight on Denise Duffield-Thomas, I reviewed how her three amazing money mindset books have changed my life in the last two years. If you are thinking about making some upgrades around money, I recommend starting with Denise's books in all formats. For example, you can have an audible version to listen to her on the go (driving, gardening, riding a bike, walking, etc.), an ebook version to reference a specific chapter on the go (inspiration, meditations, quotations, action steps, etc.), and a physical copy at home (stay focused, read faster, tactile, making/taking notes, or passing on to friends/family). 
Thank you for reading,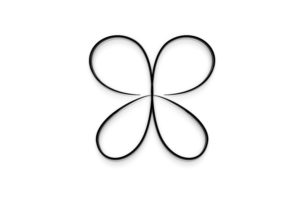 Dr. Jaime Brainerd, E.d.D.
P.S. –  As I was creating this post, I found another money mindset book by Denise DT released recently in May 2022 called, "Money Mindset for Natural Health Practitioners." That's 5 money mindset books in just over a decade (two this year)! I snagged a copy to check it out, maybe some of my friends would be interested in a copy, too!