Sunday, July 23, 2023
Welcome to Summer friends, thank you for stopping by my Self-care Sundays B.R.E.A.T.H.S. blog where I share a variety of self-care strategies. For the month of July, I will be sharing the responsibility for caring for my preteen niece and we are teaching her about different types of self-care strategies. Each week on Sundays, I will select a self-care topic for a part of the body and will link it to Monday Beauty lessons. 
Self-care Through the Generations
The first week, I addressed skincare through the generations. The second week, I focused on hair care routines and regimens. Last week, I was having a discussion about family foot care. This fourth week, I am sharing about how to care for the body but putting a little twist by adding a fun family activity with silent disco dancing that will surely get you moving!
What is Proper Body Care?
Body care isn't just about keeping yourself clean, it's about whole body care where you include wash but also pay attention to hydration, nutrition, and exercise. This past month, I have been discussing how to care for different parts of the body, and this week I am listing some ideas on how you can do this. 
Exercise – pick an activity that motivates you to move your body regularly

Exfoliate – remove dead skin

Hydrate – drink plenty of water

Moisturize – lotion after shower/bath

Nourish – moderate food intake with balance of essential vitamins and minerals

Wash – clean with soap and water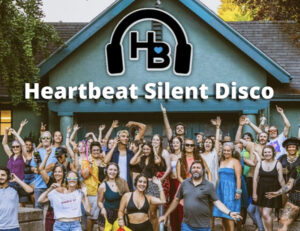 What is Silent Disco Dancing?
This last week on my Travel Friday's blog post, I discussed my top 10 tourist attractions around the USA, and one of my favorite places was OUE, located at the top of the US Bank Tower in downtown Los Angeles. I really liked the place for the views, angel wings, and sky slide, but shared an experience where I went there for a silent disco dance party. One of my UBC friends asked what silent disco was all about, so I decided to include what it is as one of my favorite activities to get my body moving.

Silent Disco Dancing on the Tilikum Bridge, Portland, OR
On Fourth of July 2018, my friend invited me to my first silent disco dance party on a bridge in downtown Portland and watch the fireworks while dancing. We paid $10 to rent headphones and gave them our ID to hold until we returned them. There were three DJ's spinning house, techno, and top 40 under the bridge. 
The headphones had three stations with a color representing each one (red, green, blue). You could toggle through the different stations to find the beats you like. The headphones had a pretty long range for us to go onto the middle of the pedestrian bridge and dance with people of all ages. This was so much fun I repeated this activity in 2019 and 2022 with more of my friends.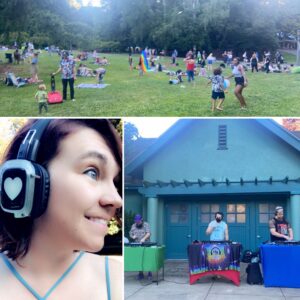 Silent Disco Dancing in Laurelhurst Park, Portland, OR
I was so excited about this new way to have fun with my family and friends, I started looking for more events and found them at Laurelhurst Park in Portland, OR. Families brought picnics, blankets, chairs, hula hoops, jump ropes, juggling devices, bubbles, and lots of unique costumes or glow in the dark accessories. They can only play when it's nice weather, so that narrows it down to about three or four months out of the year for silent disco dancing in the Portland parks.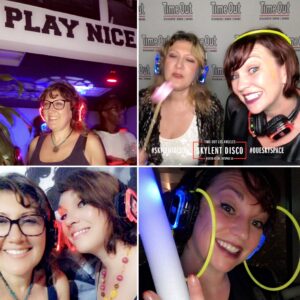 Silent Disco Dancing at Pop-up Rave, Long Beach & Los Angeles, CA
When I was back visiting my friends in California, I told them about this new thing I was doing in Portland, and I found out this Heartbeat Silent Disco will play the other 8 or 9 months down in Southern California where the weather is a little more predictable and nice. I found they would do pop-up silent discos around LA and San Diego counties. Of course there was a pop-up silent disco rave when I was visiting and I couldn't miss out. I visited one in downtown Long Beach in a rented building space, the second one was a "sky-lent disco" in Los Angeles at the top of OUE.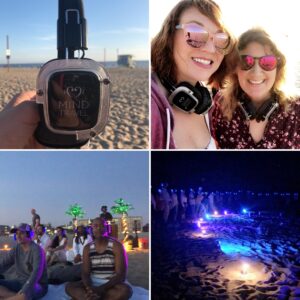 Silent Disco Dancing at a Full Moon Festival, Santa Monica, CA
My CA bestie had so much fun at the silent disco, she kept an eye out for more pop up experiences when she stumbled across a full moon festival with guided meditations followed by a full moon silent disco dance. We met with a large group on the sand just before sunset and began the ceremony with some sacred tincture. After some meditative prayers, we walked along the beach to watch the sun set into the ocean, and danced as the full moon rose. 

Silent Disco Meets Songwriter Soiree
Now that I am familiar with Heartbeat Silent Disco events, I learned about their newest collaboration with a group of Pacific Northwest songwriters. In Summer of 2021, the two groups met for the first time to put on a silent concert in the park! Similar to the silent disco party, you rent out the headphones, $15 to cover both groups, and only one station is live (blue). The microphones are hooked up to an amp and that runs the sound through the headphones so you get pure, raw sound from the artists. Each artist volunteers to sing an original and has five minutes to share their spoken word (music, poetry, etc). The audience is mixed with artists and listeners alike. The first time I went I was in tears almost the entire time because I never heard music so clear and beautiful, like they were singing directly from ears to my heart.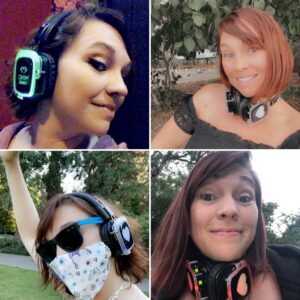 Conclusion on Body Self-care
Take good care of your body and your body will take good care of you. Exercise is one of the most difficult things for me to do, this is why I find fun things to keep my body moving. I was excited to share my most favorite way to dance or attend a concert, and it doesn't cause any noise pollution. You can essentially host these silent disco events virtually anywhere. Check out my compilation of my silent disco adventures in my YouTube video below.
Sunday July 23, 2023 Daily Motivation Draw 
I set up a small outdoor altar by the backyard swing on a small round glass and metal table with some fresh-picked raspberries and blueberries. I lit the candle, lit the Palo Santo stick, and started reading the invocation of Spirit from The Sacred Medicine Oracle Guidebook. I centered myself, took three deep breaths, shuffled the deck three times, cut it in half, and drew the card asking: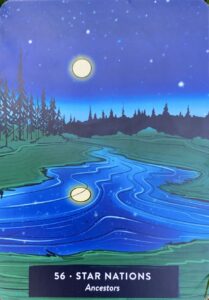 Daily Draw Question: "

What medicine is being invited into my life so that I may thrive?"
The card I drew:

56 – Star Nations – Ancestors

Message integration:

Our ancestors have retreated to the cosmos and are forever shining down upon us (Frost, 2023). They meet us in our dreams and in the faces of our living relatives (Frost, 2023). Our loved ones are always connecting, supporting, and guiding through our ancestral bond (Frost, 2023).

Healing affirmation:

"I am loved by my ancestors in the stars. Our bond is never forgotten."

Personal insight:

This is the second time I am receiving this card from a past loved one with a message to keep healing our generational line. I am being asked to continue to learn about Indigenous medicines, honor, implement, and teach their messages.

Tonight, I will pay close attention to the wisdom they share in my dreams. 
Thank you for reading,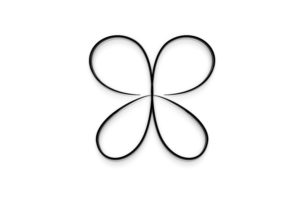 Dr. Jaime Brainerd, Ed.D.
Reference:
Frost, A. (2023). The sacred medicine oracle card deck & guidebook. Hay House, Inc. 
*Disclaimer: I am not a medical professional and I am not giving any medical advice. My doctorate is in educational leadership and technology. I am a health enthusiast who feels that sharing health-related information I learn about myself might help others heal themselves through holistic care.