Sunday, August 15, 2021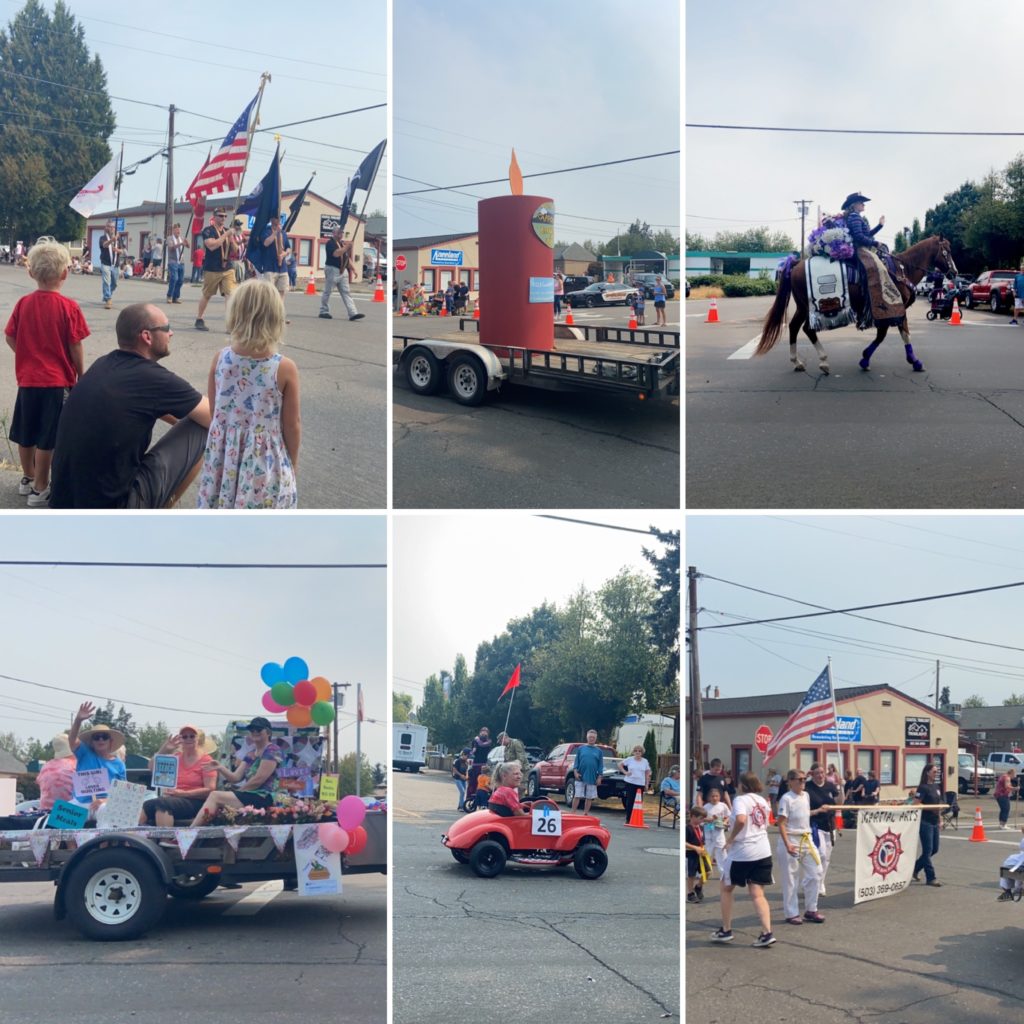 This August weekend of Friday 13th through Saturday 14th, the small town in Oregon where I grew up, we celebrated Scappoose Centennial Birthday between two of their large parks located on each side of Highway 30, Heritage Park and Veteran's Park. Both days from 10am to midnight were packed with activities for the community to celebrate 100 years of the township. I hung out with different family members on both days of celebration.
Family Fun on Friday
At noon on Friday, my niece, mom, dad and I strolled down to the Heritage Park portion of the Scappoose Centennial which is the city center with the city hall, police station, library, and historical society (Watts Pioneer Museum built in 1902). There's also a large pavilion where there was mostly children's entertainment during the day and adult music in the evening. Next to the pavilion is a playground, picnic area, musical art sculpture that sprays water (perfect for the scorching weekend), and a popular skate/bike park. There were several vendor tents and a few food trucks. My niece and I went to look for artsy stuff while my parents went looking for snacks. We listened to a little music then toured through the history tent. In the evening, I met up with two of my little brothers (both taller than me), and we visited the beer garden at Veterans Park, where there was a live local band, "Hit Machine," on one of the two baseball fields playing requested songs from the 60's through today. Surrounding the ball fields were local vendor booths and food tents, a large playground, dog park, and picnic area. For dinner we ordered some nachos from the local Mexican food booth, Ixtapa. That was a very long and fun Friday the 13th with the family.
Scappoose Centennial Celebrations on Saturday
There were several things scheduled for families on Saturday, starting with a "Run for Neil" (1k, 5k, and 10k races around the city), an opening ceremony for Scappoose Centennial Celebration, family competitive games, multiple music venues, movies in the park, and the vendors and food trucks. The parade began at 11am and started off with local airmen performing airplane stunts over the town. It showcased the local bands, dance teams, martial artists, vintage cars/trucks, several area businesses, horse riding princesses, current mayor, our resident centenarian "Millie," the city law enforcement and fire department, and several others who were handing out candy to the parade watchers. The kids each got bags filled with tons of sweet treats. To start off the opening ceremony at 1pm, the National Guard let off three cannon blasts that rattled the surrounding area and almost made me pee my pants! They sang the National Anthem and people proceeded to the events scattered around the city. My parents presented my Dad's '69 Ford Fairlane at the car show in Veterans Park, and I was hanging out with my baby brother's family at Heritage Park with all the games and activities. Most of the kids were too hot to participate in anything, so they had a good time running through the musical art sculpture that sprays water to cool themselves off. We ate lunch from a variety of the food trucks and visited each vendor who was handing out free goodies. The kids each had bags full of fun items like frisbees, little backpacks, sunglasses, stress balls, mini beach balls, keychains, hats, stickers, pens, sports water bottles, pencils, hand sanitizer, and lanyards. In the evening, I met up with my eldest teenage nephew to have some food truck grub and listen to another local band, "The Weiners." That topped off two full days of celebrating Scappoose' 100 year birthday.
Learning About Scappoose' Last 100 Years
The history tent was set up with lots of posters displaying how Scappoose landscape changed over the years. According to the posters I read, Scappoose used to be a booming town in the early 1900's with a train station, multiple hotels, lots of small business, a post office, and school, until fire destroyed most of the town not once, but twice in 1915 and 1930. After the second fire in the 1930's, Scappoose built their electric and water systems, along with a library and bigger schools. In 1930, the population was about 250 residents. When I graduated school here in the 1990's, the population was roughly 3,500. Today, the population has more than doubled to over 7,700 residents in just 25 years. There were also posters of Scappoose' most accomplished citizens. Although I did not make the history posters by this centennial, I am most certain my legacy will be presented at the next one. Although, I highly doubt I will be present then, these B.R.E.A.T.H.S. of mine will last a lifetime. 
Scappoose' Scene Today
Our little rural town just 20 miles north of Portland is steadily growing as people are starting to look towards more family dwelling types of places away from busy urban areas. For me, Scappoose was perfect for growing up with great schools, delicious local restaurants, fun parks for playing, plenty of hiking/biking/hunting trails, swimming holes in creeks and rivers, several water channels for fishing including a popular marina at Scappoose Bay Marine Park, lush valleys for farming, thick forested hills for logging overlooking the Cascade Mountain Range, Columbia County Spotlight newspaper, Scappoose Public Airport (two private airports), and of course our most prized city icon, The Peace Candle of the World  (made with real wax!). This small town of Scappoose I call, my homebase. As I travel all around the world, I am extremely blessed and grateful to have my family and roots still firm in place so I know I will always have a safe and loving home to come back to. 
Thank you for reading and viewing,
Jaime Brainerd, E.d.D.