Sunday, October 3, 2022
Welcome friends to my October 2022 Self-care Sundays B.R.E.A.T.H.S. blog. This space is where I dedicate to sharing a variety of my personal self-care techniqniques. This Sunday, I am sharing about one of my favorite October celebrations with my family at Halloweentown!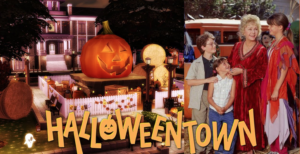 Halloweentown Movies 
In 1998, Disney released a movie called "Halloweentown," that revolves around a family of witches that are able to transport to a magical place that is filmed in the real town of St. Helens, Oregon. There have been four movies released total. The second movie is Halloweentown II: Kalabar's Revenge in 2001, the third is Halloweentown High in 2004, and the fourth is Return to Halloweentown (2006). I will be honest, I have only seen the first one, but after writing this post, I know about the other ones, which I didn't before, so now I will have to check them out.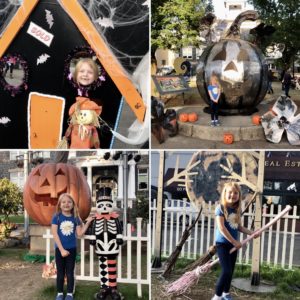 Halloweentown Events
Through mid September till the end of October, Halloweentown comes alive at the Columbia County Courthouse area known as Spirit of Halloween. At the beginning of October, there is the Big Halloween Parade, people dress up, and after that is the lighting ceremony for the Spirit of Halloween Pumpkin.  They have a haunted house, a pirates area where they shoot off cannons, and the entire town is decorated, and celebrating in the Halloween Spirit!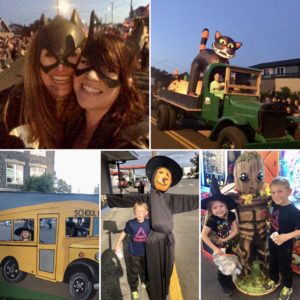 The BIG Halloween Parade 
Since we live in the town next door, the last couple years my family and I have made our way to The Big Halloween Parade the first weekend in October. Most of us get dressed up. The last two years, I dressed as Bat Girl, both times the real Bat Man and Bat Woman stopped the Batmobile, and got out to high five me! I am not sure who has more fun, the kids or me, lol.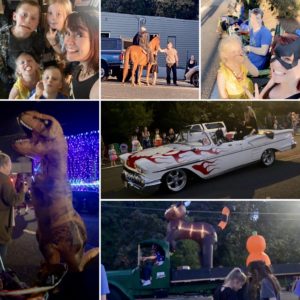 Each year we invite new friends, see old friends, and have an amazing time kicking off the spooky season. Lots of amazing floats and interesting characters running around handing out candy, and that was probably the kids favorite part. Maybe I will see you there one day!