Thursday, July 14, 2022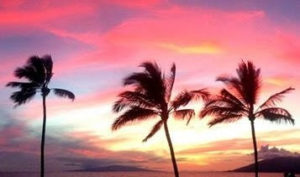 Welcome to my Art Thursdays B.R.E.A.T.H.S. blog post where I invite you into my private art studio, Brainerd's Brushstrokes AND Photography/Videography! This year for my art blogging, I am combining a few of my creative skills with painting acrylic on canvas and snapping pics and videos on my iPhone. For the month of July 2022, I will be sharing my Tropical Island Series of paintings, photographs, and videos from a variety of my island visits. Last week, I posted some photos of my besties trip to Kauai in 2018. Today, I am sharing some art from a couple of my visits to Oahu, Hawaii.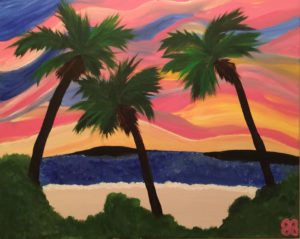 "Abstract Aloha"
This was painted by me on July 22, 2015 at "Sip" Restaurant located inside the Renaissance Hotel,  in downtown Long Beach, CA. Palm trees are my favorite to paint, so I have had lots of practice with my art coach Michael at Brushstrokes & Beverages. Instead of following his instructions on a new painting, I found a picture a high school friend took that had an amazing Hawaii sunset, and did my best at painting the abstract Hawaiian sky (see photo and painting above).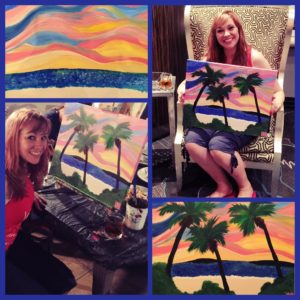 Creating "Abstract Aloha" 
This may not have been my first palm painting, but it was my first being created by looking at a photograph, and not following an art teacher. Although there are slight differences, I really wanted to put emphasis on the swirling pastel sunset. I gifted my friend Ashley this painting when she started college at Hawaii University in Oahu, HI.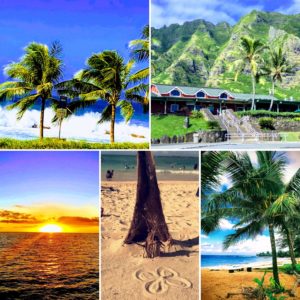 Oahu Firsts
My first time to Hawaii was my visit to the island of Oahu in July 2017 to visit my high school bestie, and what a great friend she was to show me a handful of other Oahu firsts. The first thing I tried was snorkeling, which I didn't like too much because I had to keep coming up for air and missing out on ocean life. This prompted my next first, scuba diving, where I became PADI certified and went down under to witness thousands of ocean plants and animals, I loved it! Next time I will have to bring an underwater camera, my new waterproof iPhone 7 couldn't take pics that far down, lol.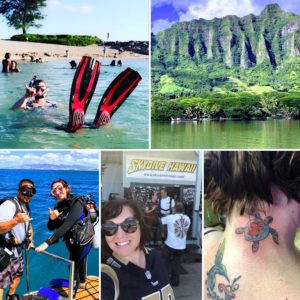 Even More Oahu Firsts
The second time I visited my bestie in Oahu was in December 2018, again she did not disappoint. Our next first was visiting a secret island located at Kualoa Ranch, we practically had the entire island to ourselves with a fun boat ride to watch sea turtles included. By the end of my trip, we were casually discussing skydiving, and I never really thought about it, but decided to go in my Ram's Football jersey. Immediately after the jump, we went to watch the Ram's win to make it to the playoffs. I was so excited, I decided to get a turtle tattoo on my neck (my second tattoo), and my friend got a matching one on her shoulder (see collage above).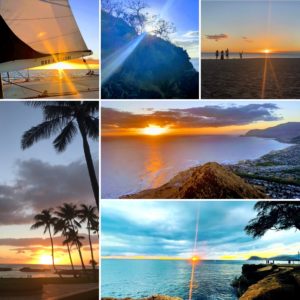 Oahu Sunsets
Of course I had my first Oahu sunset, which will become my first photo I shot and painted myself. Since visiting Oahu three times, I have seen over a dozen sunsets. On my third visit to Oahu July 2021, we went on some really breathtaking hikes (literally, I was out of breath, but also the views were awesome). Some of my favorites were relaxing at Ko'Olina Beach (as seen in video thumbnail picture), hiking to the the top of an old military pillbox, and another while having dinner while sailing on a catamaran. Check out my collection of Oahu sunset pictures and videos!
Aloha, Oahu
Saying Aloha to Oahu and my Hawaiian firsts! May there be many more fun first time experiences, and spectacular sunsets for me to photograph and paint. Stay tuned for more of Brainerd's Brushstrokes & Photography/Videography around tropical islands!
Thank you for reading and viewing,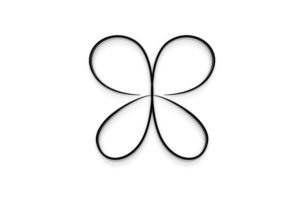 Dr. Jaime Brainerd, Ed.D.