Thursday, July 7, 2022
Welcome to my Art Thursdays B.R.E.A.T.H.S. blog post where I invite you into my private art studio, Brainerd's Brushstrokes AND Photography/Videography! This year for my art blogging, I am combining a few of my creative skills with painting acrylic on canvas and snapping pics and videos on my iPhone. For the month of July 2022, I will be sharing my Tropical Island Series of paintings, photographs, and videos from a variety of my island visits. Today, I am sharing my "Aloha Hawaii Palms" painting from 2015, and photography/videography from the island of Kauai, HI, in 2018.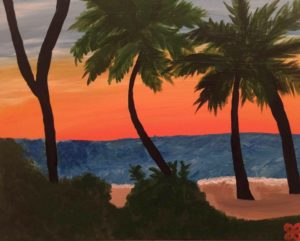 "Aloha, Hawaii Palms" was painted by me on June 30, 2015 at Urban Table (currently Pietris Bakery) located at 5000 E 2nd St, Long Beach, CA 90803. My friend Trina owns this painting. Below is a collage of pics of the painting event with my artist friends at Brushstrokes & Beverages in Long Beach, California.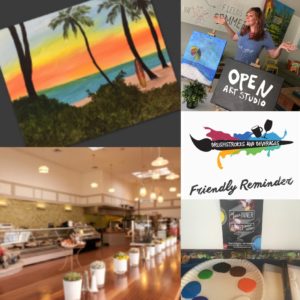 Paintings & Photographs of "Aloha, Hawaii Palms"
Top left photo is a screenshot of the lead artist, Micheal's painting that the art students mimic while learning to paint together since 2012. Top right photo is me posing in their first art studio in 2015 (wearing their T-shirt as my art shirt). Their second and current art studio is across Linden St. at 501 E Broadway Unit C, Long Beach, CA 90802. The middle right is a screenshot from the "Friendly Reminder" emails they would send to us the morning of the event. In the bottom right corner is my photo of the art tools set up for us on the day of the painting. The bottom left photo is a screenshot of the restaurant that was attached to the reminder email. Notice any similarities or differences in our paintings?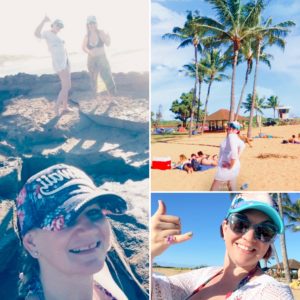 Videos of "Aloha, Hawaii Palms"
Although my painting above was inspired by my art teacher, my photos and video were created by me while on Spring Break, March 26, 2018 with my besties from different states, Chrystal (CA) and Kristin (HI). We were visiting Salt Pond Beach Park in Kaumakani-Hanapepe, Kauai, Hawaii. Chrystal and I were staying on Kauai for a few weeks (we are wearing matching Del Sol color-changing hats), and Kristin hopped on a plane to visit us from the neighboring island of Oahu. We snapped a few pics playing at the beach, and I snagged a video of the surf right before sunset and then a video as the sun was sinking into the Pacific Ocean. Below is my YouTube creation. 
"Aloha, Hawaii Palms" Conclusion
I could paint palm trees and sunsets every day, perhaps someday I will do that. For now, I will paint a few here and there, and during the month of July 2022, I will be sharing different palm tree paintings from my art gallery, along with photos and videos from my travels around different tropical islands.  Stay tuned for more of Brainerd's Brushstrokes & Photography/Videography!
Thank you for reading and viewing,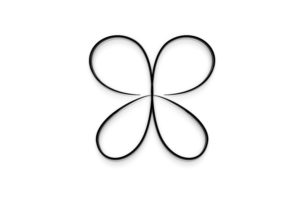 Dr. Jaime Brainerd, Ed.D.