Thursday, April 27, 2023
Welcome back to Art Thursdays of my B.R.E.A.T.H.S. blog where I invite you into Brainerd's Brushstrokes and Photography studio. This is a space where I share my art. For the four weeks this April, I will be posting about my artistic inspirations.The first week, I shared some of my favorite inspirational artists. The second week, I shared two cities that inspire me to paint, Long Beach, California, and Paris, France. Last week, I posted some paintings inspired by nature scenes. This final week, I am sharing my abstract acrylic paintings of insects and animals that have inspired me throughout the years. Please enjoy!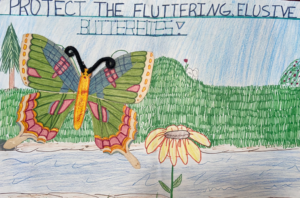 Starting Young (1989)
When I was in grade school, I was very much into art, coloring mostly nature scenes with animals. As I transitioned from lower elementary to upper elementary, my art started to transition into poetry and writing stories. Today, I still do a combination of drawing, painting, and writing, just on different mediums, levels, and platforms. My very first competitive art was in the 4th grade for an environmental campaign to save butterflies, and I created a poster and a poem to share my heART. This is actually my first mixed media art piece with the butterfly made out of card stock, outlined with fine point markers, colored with pencils, and pops out of the poster made of large construction paper. It also has black pipe cleaner for the antenna. 
Birds & Bugs
Top LT:
"Mixed Media Love Birds" 3/31/15, (My second mixed media piece with sage leaves stuck to the paint)
Top Mid: "
Fireflies" 7/31/16 (saw my first live firefly in Austin in May 2022)
Top RT:
"Cardinal Love"11/28/16 (reminds me of loved ones)
Bottom LT:
"Love Birds" 1/19/15 (I love painting love birds)
Bottom Mid:
"Abstract Butterflies" 8/29/16 (my modern day butterfly painting)
Bottom RT:
"Hooty" 6/9/15 (named after my elementary school mascot and now owned by my bestie in Long Beach)
Water, Land, & Indoor Animals
Top Left:
"Octopus" 1/15/14 (painted at the Aquarium of the Pacific in Long Beach, CA, a benefit painting party! Also, one of my favorite paintings I still have)
Top Right:
"Cuddly Panda"  6/23/15 (my first teddy bear was a cuddly panda)
Bottom Left:
"Panda Family" 4/11/17 (I love painting pandas, but I think next time I should finish the eyes, lol)
Bottom Right:
"Meow!" 7/16/16 (every time I look at this painting, the "Siamese Cat Song" starts playing in my head, haha)
Conclusion on Inspirational Art
Most of my paintings were created in the 2010's with my friends at Brushstrokes and Beverages in Long Beach, California. Writing these inspirational art posts this last month made me realize how much I love to paint and that I need to start planning more art time in my self-care activities to do on Sundays. It is especially fun when I get to share the experience with family and friends. Thank you for following along my artistic journey. Looking forward to creating and sharing new pieces soon!
Thank you for reading and viewing,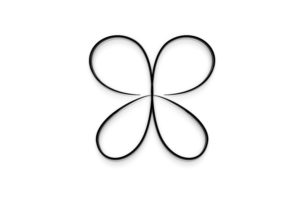 Dr. Jaime Brainerd, E.d.D.