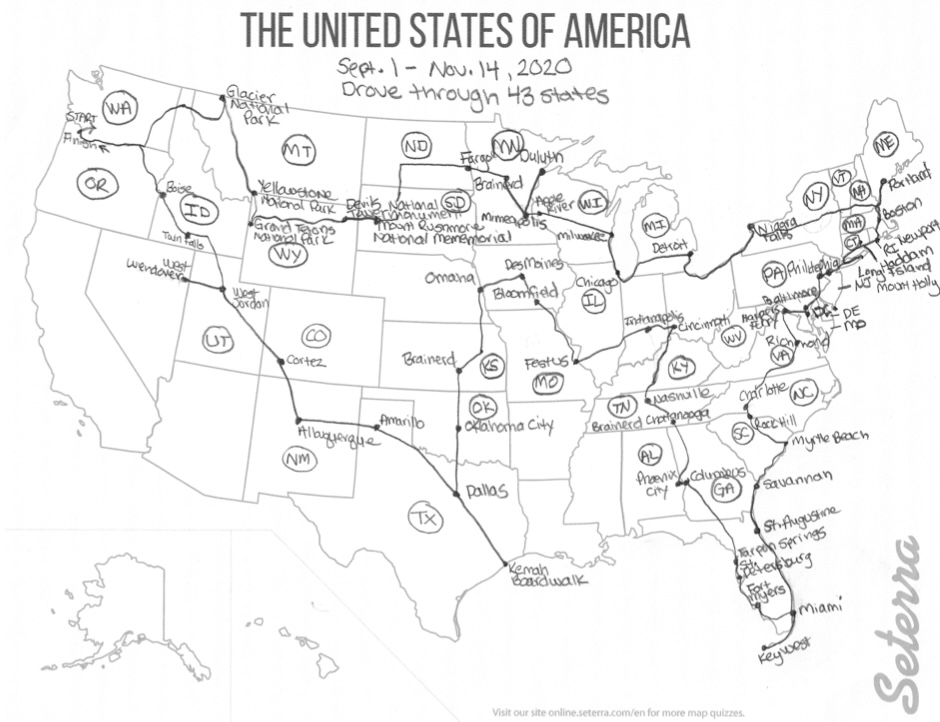 Friday, May 7, 2021
Jaime's Journey Across USA
Welcome to Travel Fridays! This is my fifth blog post explaining what I will be authoring each day to pass on my words of wisdom or my B.R.E.A.T.H.S. from the seven areas I love the most: beauty, reading, education (financial), art, travel, health, and self care. Each day of the week starting with Mondays I will post a blog on the assigned topic.
This is my first Travel Friday's post. I will explain why this topic is so important for me to share. For the majority of my life, I have been in school either as a student, teacher, or both. Although I am a lifelong learner, I often find myself wondering if I could be a lifelong traveler. While in school, I didn't travel as much as I would have liked. It wasn't until 2017 that I even applied for my first passport, but that is when everything changed and I was bit by the travel bug.
My parents got their passports and a new camper in 2018, so we decided to drive up to Canada where you need a passport to enter the country, but they only stamp it if you are flying there (I didn't know this at the time). My first international flight and passport stamp was Spring Break 2019 to the Dominican Republic with my bestie Chrystal. Since then, I have not flown to any international countries, but I have been to Oahu a couple times to visit my bestie Kristin and had some unforgettable experiences I will cover in future posts!
During this last year in 2020, I had time to complete doctoral school in March when covid hit, no graduation for me, but I will plan an epic travel celebration when everything is safely back open and I can spend time with ALL my loved ones. For the most part, I hunkered down inside until September when things started to open back up. With all that down time, instead of watching tv, I explored nature around me by visiting every park in walking or bike riding distance, read a book a week, started an educational nonprofit business, and planned my trek across the United States to visit all the 48 mainland states that I could drive to with my 2010 Ford Edge SUV. I called everyone I know to see if they were up for a visit. There were a few "not at this time" requests due to the circumstances, but for the most part my friends and loved ones were open to some quality Jaime time.
Starting September 1, 2020, at my "homebase" with family in Oregon (see map above), I made a single bed in my car, packed seven duffle bags, three clear plastic storage boxes for food/dishes/camping gear, two open carry bags, two backpacks, one cooler, a 5 gal water holder, and I was on the road until November 15. For the month of September, I drove from Portland, Oregon all across the Northern states to Portland, Maine. My only friendly stop was in Minnesota for two weeks until I got to Maine. In October, I drove down the East Coast states visiting a couple friends on the way. I circled my way around the entire state of Florida, even driving all the way to the most South Eastern tip at Key West, making my way back up the Gulf of Mexico side, where I visited a couple beaches with some friends. For the first two weeks in November, I made my way up through the Midwest states stopping to meet some new friends and two high school friends on my way back to my homebase. I managed to visit 43 states on the first part of my drive across the USA trip.
I rested for six weeks with my family and planned the second part of my trip to complete all 48 mainland states (see map below). On January 1, 2021, I started part two of my journey, this time I got a National Parks Passport book and planned on stopping at as many parks as I could to get my stamp cancelations. For the month of January, I planned on driving from the central Oregon Coast all the way to Mexico (didn't get to go on this trip due to more Covid restrictions placed at the end of this month). Instead of going to Mexico the last week of January, I stayed in National City, California and had the craziest hotel experience of my life that I will go into detail at another time since I am still dealing with the situation. International travel was not in my original plans, I did try to make it work, it just wasn't the right time. During the month of February (the coldest month in our nations history), I drove from California to Florida hoping that the Southern states would be warm enough for me to sleep in my car, but they weren't, so I spent the entire month with friends or at hotels. In March, I drove up through the Midwest states again, this time visiting more friends and family I haven't seen in many years.
The first week of April, I drove to about 12 National Parks located in MN, IA, SD, WY, CA, and OR. For my second part of the trip I managed to drive across 24 states. Right now, I need to rest for about a month and a half. During that time I am planning on retreating for the months of June and September to sacred places to focus on writing a book at each location. I am planning to explore again in July and August, but I am crossing my fingers that the National Parks in Hawaii and Alaska are open so that I can plan to explore a month in each state. In the meantime, I am excited to share my travel tips with you as a single woman fearlessly exploring North America. For Travel Fridays, I will be making weekly posts about my experiences in each state, mostly adding pictures and videos with a few stories sprinkled in.
Thank you for reading this,
Dr. Jaime Brainerd, Ed.D.