Sunday, June 27, 2021
Welcome to my Self-Care Sunday's B.R.E.A.T.H.S. blog post. Last month during Mother's Day, I discussed the top five reasons self-care is important, followed by 10 tips you can do to maintain proper self-care, and five ways to help mom with self-care. Last week, I reviewed over 20 different types of massages you can look into for Father's Day. These self-care Sunday lists work great for everyone! This week I am going to share with you some tips on how you can get out of the house and open up your experiences by exploring new places and trying new activities.
How to Get Started Exploring New Places
For the past three years, I have had multiple opportunities to explore several new places around 49 of the United States, with Alaska being my last to explore. My insatiable curiosity and my passion for lifelong learning will have me living life on the road for the next several years. Plus, I have been cooped up at home for the last twenty years working multiple jobs as an educator and finishing multiple higher education degrees. My mind and body are eager to explore new places. Before my positive self-care journey, I barely explored outside my own state. Now, I am planning my next adventures to see every nook and cranny of every state. I am going to share with you ten tips on how you can get started on your next exploration journey.
Places to Explore in USA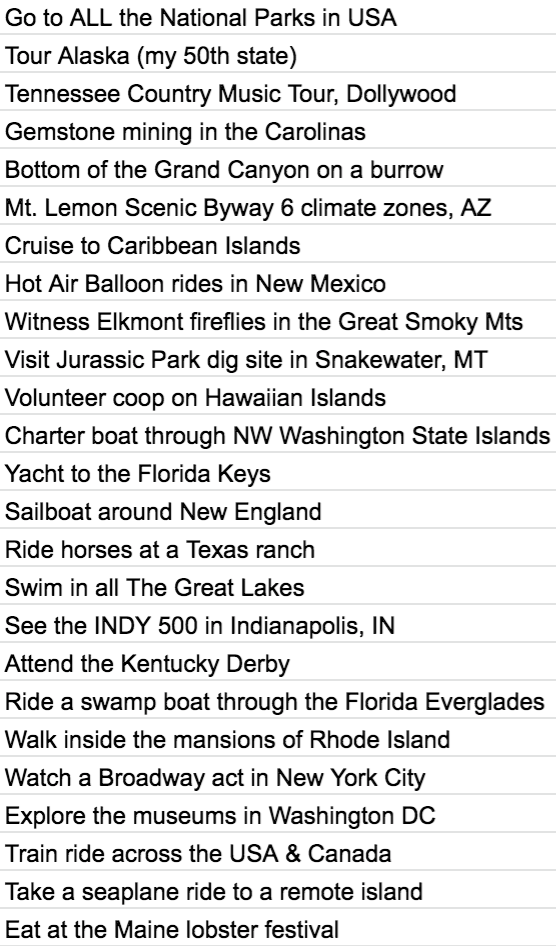 Tip 1 – Make a List of Places You Want to Explore
Get a notebook, piece of paper, or Google Doc (my favorite) and start free-writing all the places that pop into your head when you think about exploring. I have been using Google Docs well over a decade and have ALL my notes stored here because they are easy to access and update any time. I have years of lists, journals, reminders, and spreadsheets. I value these lists because I can go back and use some original notes that help me plan for my next adventure. You have to know where you want to go before you get started.
Activities I Want to Do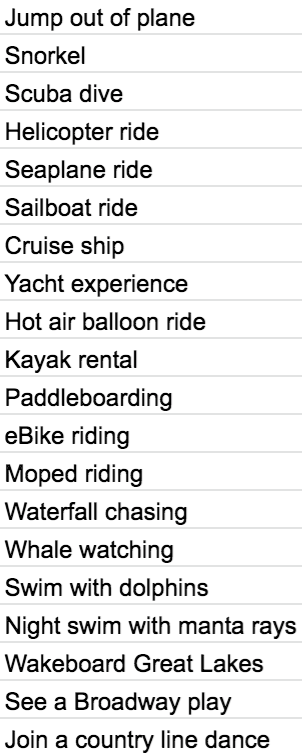 Tip 2 – Create a List of Activities You Want to Do
Now that you have an idea of the places you want to explore, create a list of activities that you want to do. Try new activities or repeat adventures you thoroughly enjoy. Each location you want to explore will have a variety of activities to choose from, it is nice to know what you like to do ahead of time. 
| | |
| --- | --- |
| Skydiving Over Oahu | Kayaking at Kualoa Ranch |
| | |
| Snorkeling in Ko Olina | Scuba Diving in Waikiki |
| | |
Tip 3 – Pick a Place
Now that you know the places you want to explore and the activities you want to do, pick a place from your list that you want to visit. Have an intention set for why you want to venture out to this new area. This will help you plan and open up your mind to the possibilities these experiences will provide.
AAA Hawaii Digital Tourbook
Tip 4 – Pre-explore Your Place
Find as many resources as you can about the place you are going to explore. Below I have provided a list of my go-to resources. Call or email the places to send you information via email or snail mail. Some of these things will take time to get to you, but are valuable resources for traveling. After your first trip, you will start to figure out your own go-to resources. You should always check out the best places to see, and it is also important to make sure you understand the unpleasant things about areas to make sure you stay safe on your next adventure.
AAA – my go-to first stop for their state maps and tour books (now in digital)
TripAdvisor – where I search first online or app for best places to visit in the area, I also will plan my trip, share with family/friends, and pre-purchase tickets
Chamber of commerce – every city has one filled with information about that area
Visitor's centers – just about every state entrance has these along the highways
Bookstores (online or building) – will have local books on the area, maybe maps
Libraries – same as bookstores but may need to have local card to check out
Hotel, casino, and car rental lobbies – have pamphlet holders for local activities
Hoodmaps – gives you personal opinions about certain areas in different cities, I like this better than looking up the crime rates or other negative stats websites
Yelp – similar to TripAdvisor with reviews and directions
Asking people for recommendations
Local website
Google search
YouTube
Social media
Monthly Calendar View of Trip Around USA 2020
Weekly Calendar View of Trip Around USA 2021
Tip 5 – Set Dates & Times
Once you have an idea of the things you can do on your exploration of a new place, find the best dates and times to travel there. Use your pre-exploring list to create a spreadsheet of all the activities you want to do, the days and hours of operation, and include an address to the locations. I use Google spreadsheets to keep track of all my locations, Google maps to save the locations at places "I Want to Go," and I use Google Calendar to enter all my reservation times with notifications sent to my Gmail. I can share all of these Google tools with my friends and family to know my whereabouts or to plan where/when to meet up. I can also access them from any mobile device and use them to help me plan future adventures. You should always have back up dates/times in case there are closures, delays, or random cancellations that could impact your trip.
Places I Plan to Visit On the Big Island

| | | |
| --- | --- | --- |
| Hawaii NPS Map | TripAdvisor Map | Google Map |
| | | |
Tip 6 – Map out Your Trip
Now that you have a good idea of the places you want to go, when they will be open, and how long you will be exploring, you can make a map of your trip. As I mentioned above, I use Google Maps to help me plan by marking locations I want to visit, and mapping the driving directions along with the travel distances and times. Places I am staying I mark with a star icon, places I am interested in visiting I will mark with a green balloon icon, and places I really enjoyed visiting I will mark with a heart icon. For the most part, Google Maps was accurate around driving 48 of the mainland states. I am mapping my trip to Hawaii next month as I am writing this blog and have included some snapshots for you to scope out my planning skills. You should have a variety of maps for backup such as a travel atlas, state map with all roads, or another thing I do is print out a map and hand draw all my intended stops. 
| | |
| --- | --- |
| My 2020 Trip Around USA | My 2021 Trip Around USA |
| | |
Tip 7 – Load Travel Apps & Download for Offline Use
Several places that I explored (mountains and desserts) do not have cellular service. If I didn't do the above planning, I would have had a difficult time exploring a place without proper maps, and wasting time and money searching for things to do. Below is a list of apps I have on my iPhone and use to enhance my travel experiences. The map maps I download for offline use (NPS, Camping apps
AAA – the website and for my supplemental insurance
Adventure apps

Audio Tours (walking or driving, differ by city/state and I usually find them to purchase on Trip Advisor)
Go City
Let's Roam
National Parks Services

AirBnb
Airlines (download only when you are flying with the company)
Camping

All Stays Pro (yearly subscription for pro)

Camp USA
KOA (most dependable sites with showers and laundry)
The Dyrt Pro (my favorite, yearly subscription for pro)

Car rental (download only when you are renting with the company)

Avis
Budget
Enterprise (my favorite because they will pick you up anywhere)
Hertz

Discount travel (download the ones you use often)

Expedia – I have been using this app for years, I like it best for car rental. I go directly to hotel or airline sites for booking most of my trips, sometimes car rental places will even offer better deals if you go directly through them.
When you Google search an area (I do this search in Google Maps), a list of discounted travel options will appear, this is my first go-to place to check for competitive prices

Gas finder

Gas Buddy (my favorite, real people update the gas prices daily and it will ask if the price is correct)
Google Maps
Waze

Gas rewards – can offer directly with a phone number or through a credit card deal
Hotels – (I download my favorite) will usually give you a better deal than the discount travel options when you call their reservation desk directly to book directly with the hotel desired
Restaurant Finder

Fast food apps
Google Maps
Open Table
TripAdvisor
Yelp

Rideshare
Trail finder
TripAdvisor – great place to store and share ALL planning ideas
Check the Local Weather
Tip 8 – Check for Weather and Special Events
As your exploration trip approaches, keep an eye out for the expected weather forecast to help you pack accordingly. I like to use my Apple iPhone weather app to check the forecast and The Weather Channel app or website to send me alerts based on the area I am visiting. Also see if there are any special events such as concerts, fairs, farmers markets, parades, or other community activities that could impact your travel or give you alternative activities to explore. If your dates are locked in and something happens, be flexible, understand it might not be the right time, and you will get a better chance to see it some other time. This happened to me last year when I planned a trip to Hawaii for a few weeks to celebrate my doctoral graduation, but then Covid shut everything down. I was really bummed about not having a graduation ceremony or way of celebrating, but realized it just wasn't the right timing. This year, just happens to fall on four of my graduation anniversaries: 25yr high school, 20yr bachelors, 15yr masters, and 1yr doctoral degree, giving me even more reasons to celebrate, so I am spending four weeks in Hawaii for the month of July 2021! 
What I Need to Pack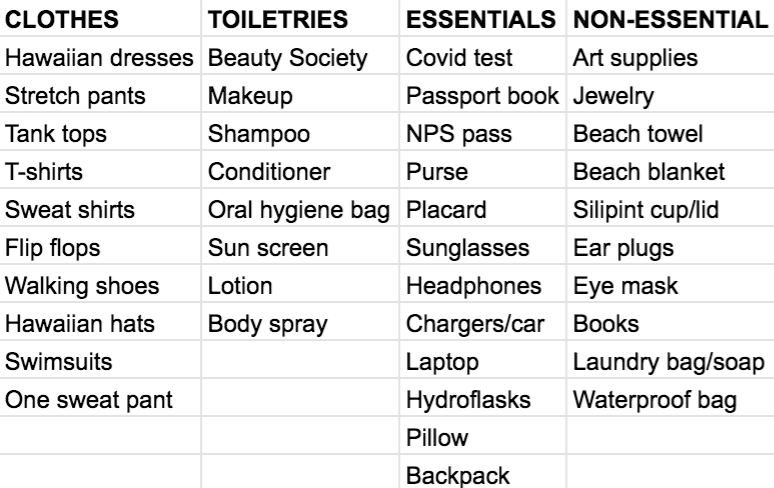 Tip 9 – Prepare What to Pack
This is another place I like to use Google Spreadsheets to make a list of things I will need to bring with me on my trip. Every time I think of something, I take note on my spreadsheet and review it right before I leave to make sure I have everything. There's nothing quite as horrible for traveling, like forgetting your passport at home when you are flying out of the country. I did this on my very first trip flying out of the USA. I had to delay my flight 24hrs, asked my family to go through my drawers to find my passport, and take it to a formal mail courrier who could airmail my passport to me before my flight the next day for $550! Thank goodness everything worked out, but that was a costly lesson. For this reason, I now am a lot more organized with my travel and hardly ever leave home without everything I need. You should be careful to not over pack, too. The first couple times I traveled with several large suitcases that were difficult to manage pulling through airports and down busy streets getting to my hotels. Now, I am able to travel for up to a week with just one backpack.
Tip 10 – Enjoy Exploring New Places
You are all set, ready, and totally planned out for this trip to explore a new place. Be sure to have fun, smile, make new friends, enjoy every moment, take a lot of pictures to help you document your journey to review at a later date, and bring back fond memories. Try exploring places on your own, with friends or family, and maybe try a trip exploring with a bunch of strangers. Whatever your next adventure may be, I hope that I have inspired you to try exploring new places. 
Thank you for reading and viewing,
Dr. Jaime Brainerd, Ed.D.