Friday, June 18, 2021
Welcome to my Travel Friday's B.R.E.A.T.H.S. blog post. Last month, I began my travel blogging with my tour of the United States National Parks© Services (NPS) and their NPS Passport Program. The first week in June, I shared that I have started an educational nonprofit, Global Alternative Learning Systems (GALS), and we are in the process of building an educational platform for teachers, parents, and community members to collaborate, communicate, and cultivate learning opportunities for every human in every community. One of the platforms will be an advanced outdoor education system that will link city, state, and National Parks© programs for people of all ages. For the month of June, I am sharing what I learned about the National Parks© Junior Ranger Online for kids that can be done while at home, and an interactive Junior Ranger Program at over 400 of the NPS locations.
What is the National Parks© Junior Ranger Program?
The NPS Junior Ranger Program is available at each of the different National Parks© Systems, about 420 locations across the USA (including American Samoa, Guam, Puerto Rico, and & Virgin Islands). Kids can enjoy each park with interactive booklets, guided tours, and special collector's pins. This is the part I want to expand upon and make the knowledge more available to the public. Especially because the Junior Ranger Program is a fun and FREE way to interact with any park.
Junior Ranger Booklets
Kids learn special things by picking up a Junior Ranger Booklet, reading through the history, completing some activities, and touring the park. At the end of their visit, they earn a gold arrowhead badge with the name of the park, similar to the one the park rangers wear. Before they earn the badge, the park rangers will recite the Junior Ranger Pledge about exploring, learning, and protecting our parks.
What Junior Ranger Programs Have We Visited?
For the month of June, each Friday I will be posting about one Junior Ranger experience I have had at different parks with my family and friends all over the USA. The first week in June, I shared my trip to Gateway Arch National Park in St. Louis, MO. Last week, I shared my experience with visiting Fort Vancouver National Park in Washington state. This week, I am sharing my trip to Ulysses S. Grant National Historic Site in St. Louis, MO. 
Ulysses S. Grant, Jr. National Historic Site, St. Louis, MO
On March 13 2021, I was in Missouri visiting my friends when we decided one afternoon to visit Ulysses S. Grant, Jr. National Historic Site just outside St. Louis, MO at the late president's home called, White Haven. We visited the Visitor's Center ranger station to get our NPS passport books, and watched a 25 minute video presentation before we had our guided tour of the site. The video was a great refresher for the adults, the kids learned a lot they did not know, and could make more connections as they investigated with their Junior Ranger Booklets. There are several videos where you can do virtual tours without even visiting the site (see link above).
Touring Ulysses S. Grant, Jr.'s White Haven Plantation
While we visited the park, we were required to wear masks and social distance. Our park ranger took us to the main house at White Haven Plantation, a house painted green that used to be off-white colored back in 1854 – 1859 when Ulysses lived there at his in-laws property with their enslaved African-American workers. We found out that the reason the house is now bright green with dark green trim, is because the National Parks service found cans of old paint on the property and thought it to belong to his wife, Julia Dent. They found some receipts for "Paris Green" paint around that time period, so that's what color they decided to paint it for historic purposes.
Whie Haven House and Slaves Quarters
Ulysses S. Grant had one slave laborer, William Jones, gifted to him from his father-in-law. He could have sold William Jones, but ended up giving him his freedom in 1859. Although Grant was the last president to own a slave, after the Civil War, he was one fighting for civil rights of African Americans by helping pass the 15th Amendment.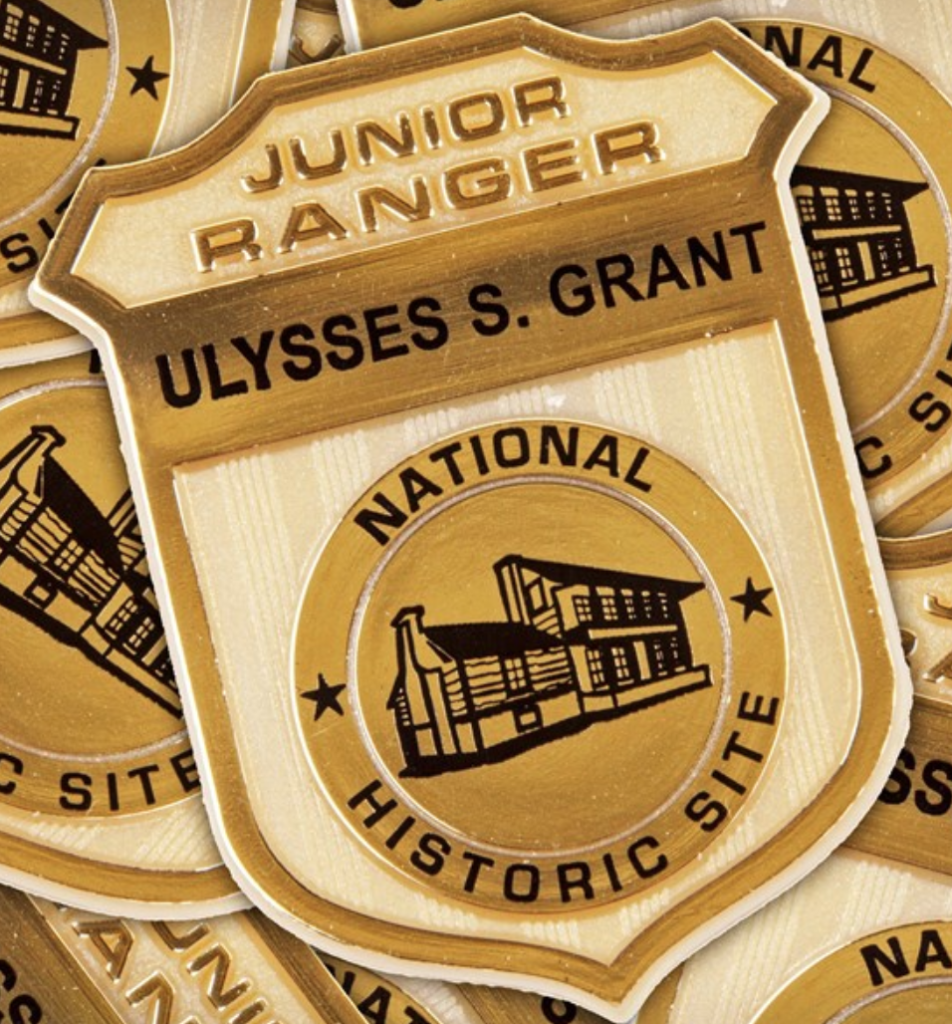 Junior Ranger Badge
While we were at Ulysses S. Grant, Jr., NHS, we were able to earn a Junior Ranger badge for that location. When you visit the site or this website, you will find activities for all ages. There are Junior Ranger booklets for three different age groups, a downloadable coloring page on the website, historical trading cards you can collect at the visitor's center, expanded youth programs, and a Junior Ranger Archeology Program. When we completed our Junior Ranger Booklet, we recited the Junior Ranger Pledge, and then received our arrowhead badges for this site:
*As a Junior Ranger, I will share what I have learned with others. I promise to continue to explore the archeological and cultural heritage sites in our national parks and within my city, state, and nation and help protect them so future generations can enjoy them.
Conclusion on Ulysses S. Grant, Jr. National Historic Site
We had an educational time exploring Ulysses S. Grant, Jr., NHS. This place is great for kids to learn about our nation's history. Please enjoy our YouTube video below showing more details of our visit. We hope we have inspired you to check this location or any other of the National Parks© Service Programs.
Thank you for reading and viewing,
Dr. Jaime Brainerd, Ed.D.