Monday May 10, 2021
Welcome to my Beauty Monday's B.R.E.A.T.H.S. blog. Since 2004, I have been using Beauty Society products, starting with their facial skincare line in my mid twenties. Now after 17 years, they have expanded their beauty products to include makeup, facial care, beauty tools, body care, hair care, hand/foot care, fragrances, men's line, and a monthly Beauty Box subscription. Into my mid forties, I still continue to look and feel fabulous using the same Beauty Society products line, and we keep getting better with age 😉
Last week, I discussed why beauty was an important topic for me to discuss and to introduce my story with using Beauty Society products. This week, I will discuss why these products are special to me. I will also review my daily morning beauty routine using Beauty Society's premium skincare products following their five recommended steps.
What Makes Beauty Society Products So Special?
*Since 2004, Beauty Society has been researching the best active ingredients that renew and rebuild our skin making it softer, smoother, and virtually flawless. Check out our "All-Natural & Cruelty-Free Ingredients."
*We make sure our products are chock-full of the best quality ingredients. We are so confident they will work, our skincare line comes with a "12-month money back guarantee."
*We care about our planet. Voted "#15 Most Eco-Friendly Beauty Company in the World" for our reusable glass containers and refill packets that give back by planting a tree for each one purchased. Here's our "Treasure Not Trash" program.
*We care about our customers. Our products help people look and feel great as well as provide an extra revenue of income in our Beauty Advisor program that builds confidence, helps others, and prepares those to become more financially independent. Read about "Our Story" by founder/owner, Jeanie Lorin.
*We have an on-site laboratory where we are continuously updating and making new products. Click here to see what skin care essentials are right for you in our "Skincare Solutions," for all ages and skin types.
My Morning Beauty Society Routine – 5 Steps to My Daily Regimine
*Our skincare comes in a five-step regime with most steps having more than one product for morning (am), evening (pm), and specialty products not to be used daily. You will see me list a couple steps more than once as that is part of my personal skincare regime.
STEP 1 – Cleanse: "Set Me Free" Pore-Clearing Cleanser
STEP 2 – Resurface: "Fake ID" Glycolic Rejuvenating Serum
STEP 3 – Rebuild: "Youth Accelerator" Age Reversal Serum
STEP 3 – Rebuild: "Our Little Secret" Firming & Wrinkle Repair Serum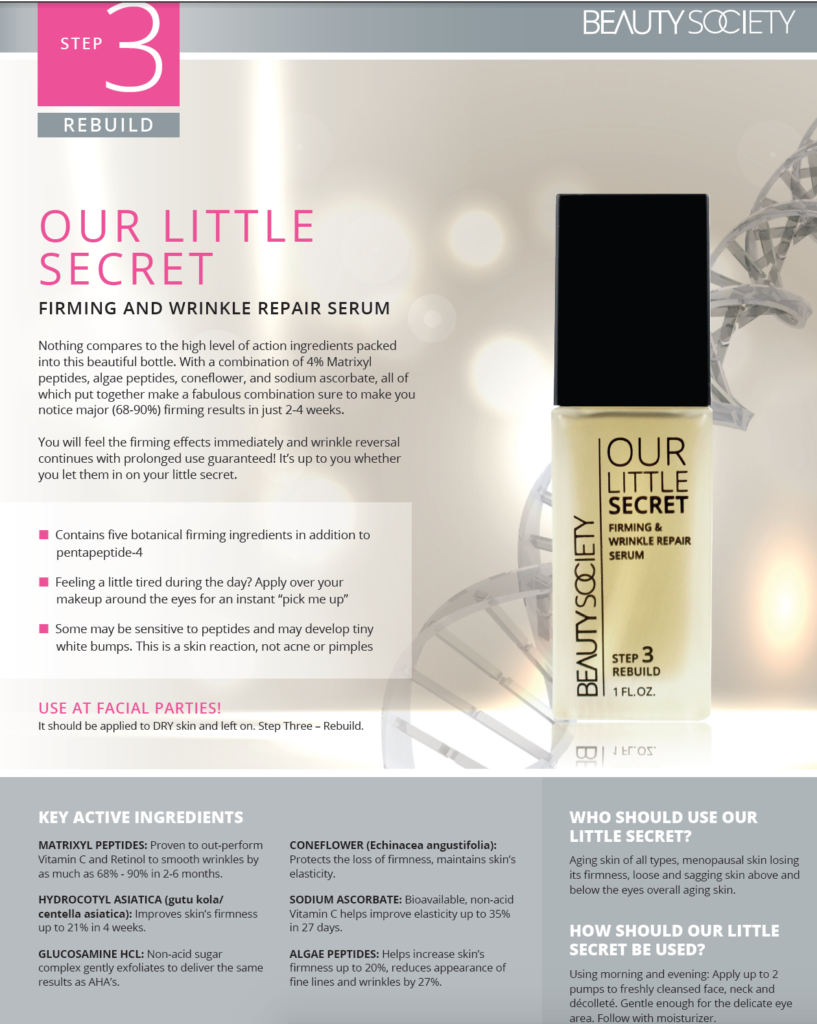 STEP 3 – Rebuild: "Immortal Eyes" Eye Cream-Gel
STEP 4 – Moisturize: "Anytime Anywhere" Time Released Moisturizer
STEP 5 – Protect: "Making Shade" Broad Spectrum Sunscreen
Video of How I Apply My Morning Beauty Society Regimine
Check out my NEW YouTube channel, Dr. Jaime Brainerd, where I will be posting weekly Beauty Society videos. Here is my FIRST YouTube VIDEO! If you enjoy, please subscribe, comment, and share!
How To Find Out More About Beauty Society
You are in luck! I became a Beauty Advisor to learn how to take care of my skin, help others care for their skin, help my friend's new business (now a teenager), look great, feel amazing in my new flawless skin, and make some side cash. If you would like some more information about the products, would like to find out your personal skin care regime, or maybe you are interested in our Beauty Advisor program, please email me at dr.brainnerd@gmail.com or check out our website.
Thank you for reading,
Dr. Jaime Brainerd, Ed.D.
*Disclaimer: I am a Beauty Society advisor, when you click on the links provided you will be directed back to my Beauty Society website where I do make a profit off the retail amount, however, there will be no extra charges to you. If you are interested in purchasing the products at a discount, you can sign up as an elite customer or advisor to save an extra 25% off everything, and 50% off our product of the month.