November 28, 2022
Welcome back gorgeous to Beauty Mondays B.R.E.A.T.H.S. blog where I discuss different Beauty Society products and tools. Today is the Monday after Thanksgiving, currently termed, "Cyber Monday," but I am calling it "Beauty Monday!" This week I am sharing four Beauty Society Facial Masks followed up with my daily skincare routine. Check out my video as I demonstrate the following steps: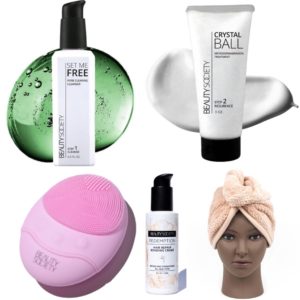 Beauty Society Shower Routine
Before my facial demonstration, I took a shower and used Beauty Society: Step 1: Set Me Free Pore Clearing Cleanser, Step 2: Crystal Ball Microdermabrasion Treatment, and used our Sonic Facial Cleansing Device for the ultimate clean facial. For my hair, I used our new Redemption Hair Mask in between shampoo and conditioner. After my shower, for the first time I used our ultra-soft microfiber super absorbent Hair Towel. I was astonished how it dried my hair so well while I was demonstrating the four Beauty Society facial masks. I took the hair towel off after the four masks and before I applied my daily skincare routine to reveal mostly dry, silky, smooth, shiny hair!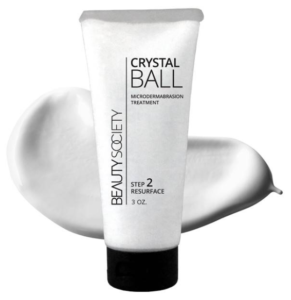 1st Mask: Let's Face It – Oily Skin & Acne Fighting Masque
Let's Face It is for oily prone skin-types or spot treatment for blemish control. My face is oily mostly in the t-zone with monthly PMS breakouts generally in the same area. I used this mask first to soak up all the oil, dry up my blemishes, and promote healing of the pores. While it covers my entire face, the Let's Face It dries making it a little stiff, almost like I can feel it pulling the oil and toxins out of my skin.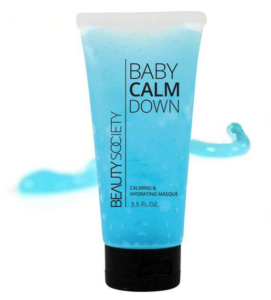 2nd Mask: Baby Calm Down – Calming & Hydrating Masque
After I dried up all the oils, the logical next step was to hydrate my face with Baby Calm Down. Normally, I lather this under my eyes to help with dark circles or on my dried lips. Today, I covered my entire face with our Baby Calm Down hydrating masque to help soothe and hydrate my dry skin (especially after the Let's Face It mask), reduce redness, and eliminate puffiness.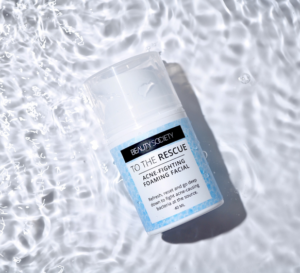 3rd Mask: To The Rescue – Acne Foaming Facial
About once a month, my face needs a little extra acne fighting, and our newest skincare treatment, To The Rescue, is the perfect way to prevent bacteria growth and breakouts.  I applied about two pumps evenly across my clean dry face. The active ingredients of salicylic acid, tea tree oil, and willow bark extract help to combat my PMS pimples. The foaming sensation is similar to our most popular mask which I will explain next.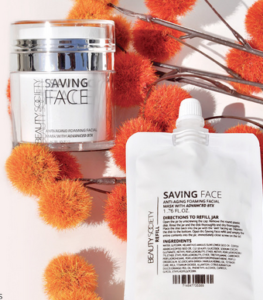 4th Mask: Saving Face – Foaming Facial with Advanced BTX
The fourth and final mask I used is, Saving Face Foaming Facial, which is our most popular skincare product. With the oxygenating foaming bubbles I can instantly feel purifying my pores and the advanced BTX works to soften and plump the skin. Saving Face works to purge my pores, even skin tone, and leaves my skin looking and feeling radiant. That is probably why it is my favorite mask.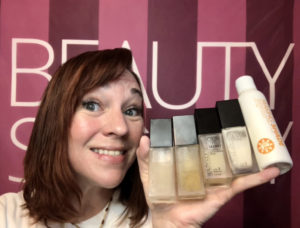 Beauty Society Daily Skincare Routine
After my amazing facials, my skin is ready for my daily Beauty Society serums, moisturizers, and finishes off with sunscreen protection. The order I apply: Step 2: Fake ID – Glycolic Rejuvenating Serum, Step 3: Youth Accelerator – Apple Stem Cell Serum, Step 3: Our Little Secret – Firming & Wrinkle Repair Serum, Step 3: Immortal Eyes – Eye Crème-Gel, Step 4: Anytime Anywhere – Time-released Moisturizer (not pictured), and Step 5: Making Shade – SPF 30 Broad Spectrum Sunscreen. Notice my lovely hair, too!
Conclusion
After the holidays, a Beauty Society facial is a great way to enhance your self care routine. While I would not recommend doing all those masks in the same day, I would pick and choose the ones that work best for you. The two foaming facials were very similar in the way they felt, although they had two separate functions (acne control and skin softening/plumping), and I would probably not use those at the same time ever again. My preferred uses are the Let's Face It for monthly spot treatment (full mask dries my face and I need to follow up with the hydrating mask), Baby Calm Down occasionally for under eyes and dried lips, To The Rescue one week a month (PMS time), and Saving Face usually twice a week (used the most often).  
Thank you for watching and reading,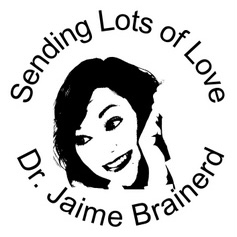 *Disclaimer: I am a Beauty Society advisor, when you click on the links provided you will be directed back to my

Beauty Society

website where I do make a profit off the retail amount, however, there will be no extra charges to you. If you are interested in purchasing the products at a discount, you can sign up as an

elite

customer or

advisor

to save an extra 15-25% off everything, and 50% off our product of the month.