Friday, June 4, 2021
Welcome to my Travel Friday's B.R.E.A.T.H.S. blog post. I have begun my travel blogging with my tour of the United States National Parks© Services (NPS). I am pioneering a HUGE mission and want to invite you along for a virtual ride to see what I have planned. Last month, I started blogging about my drives across the 48 mainland United States during September 2020 through April 2021. I shared my experience with learning about The National Parks Passport Program and how how I got started this year collecting the cancellation stamps at each of the different National Parks Systems (I have visited 50 as of today's date), about 420 locations across USA (including American Samoa, Guam, Puerto Rico, and & Virgin Islands).
My HUGE Mission
In August 2020, right before I ventured out on my travels, I started an educational nonprofit, Global Alternative Learning Systems (GALS). I am in the beginning stages of building my business, so this is where I get to document my journey and give others a peek into the progress of a growing nonprofit. Once I get the hang of blogging and maintaining this website, I will be able to start one for GALS. Then, once I start to get donations and funding, I can hire someone to do that for us (unless someone would like to donate their services, please contact me so we can make arrangements).
GALS Educational Platform
We are developing an educational platform where teachers, students, families, and just about anyone in the community can collaborate, educate, and communicate. One reason I went on my drive across the United States a few times was so that I could see, hear, taste, smell, and feel each community for myself. The other reason is because I wanted to meet new people, at least one new friend in every state! My third reason for driving across the country was to visit state and national parks because I want to create an outdoor education program that links our communities all together. The GALS platform will have several educational systems (we will announce as we grow), and one in particular is an advanced outdoor education system. That brings me to the educational portion of The National Parks Junior Ranger Online that offers interactive and printable tools to virtually interact with the NPS programs.
What is the National Parks Junior Ranger Program?
Did you know that the NPS has a Junior Ranger Program for each of the 400+ parks? Yep, kids can enjoy each park with interactive booklets, guided tours, and special collector's pins. This is the part I want to expand upon and make the knowledge more available to the public. Especially because the Junior Ranger Program is a fun and FREE way to interact with any park to learn special things by picking up a Junior Ranger booklet, reading through the history, completing some activities, and touring the park. At the end of your visit, you earn a gold arrowhead badge with the name of the park, similar to the one the park rangers wear. Before you earn the badge, the park rangers will recite with you the Junior Ranger Pledge about exploring, learning, and protecting our parks. For the month of June, each Friday I will be posting about one Junior Ranger experience I have had at different parks with my family and friends all over the USA. 
Gateway Arch National Park, St. Louis, Missouri
On St. Patrick's Day this year, March 17, 2021, I was visiting my friends near St. Louis Missouri on a very cold, rainy, and foggy day. Not a day we would have chosen to visit the Arch, but with the Covid restrictions, we had to book a couple days ahead. We brought our rain boots, rain jackets, and of course our face masks to enjoy the National Park (at the time of our visit, all parks are on federal land, require masks, social distancing, and limited capacity).
We had a special time to be there, when we arrived, the fog was so thick, we could barely see the arch standing right in front of it (see pic above). The place was pretty empty, and we were escorted into a video room where we watched the history of the Gateway Arch. Next, we waited next to some chair elevators that take us all the way up to the top of the Arch where we can view outside to see downtown St. Louis (Missouri side) and across the Mississippi River to Illinois state.
The chairs to go to the top are similar to a Ferris wheel. When inside the chair, there are little windows so that we can see the inside of the Arch. We took this selfie inside the elevator chair (see pic below) Once we were at the top, the rain stopped and the fog had cleared a little bit. The park rangers showed us amazing views.
When we came back down from visiting the top of the Arch, the kids and I visited the park ranger desk to pick up some Junior Ranger Booklets. We roamed around the museum portion of the Gateway National Arch and completed as many activities as we could (about 3 each). We took our booklets back to the park ranger desk and showed them our activities.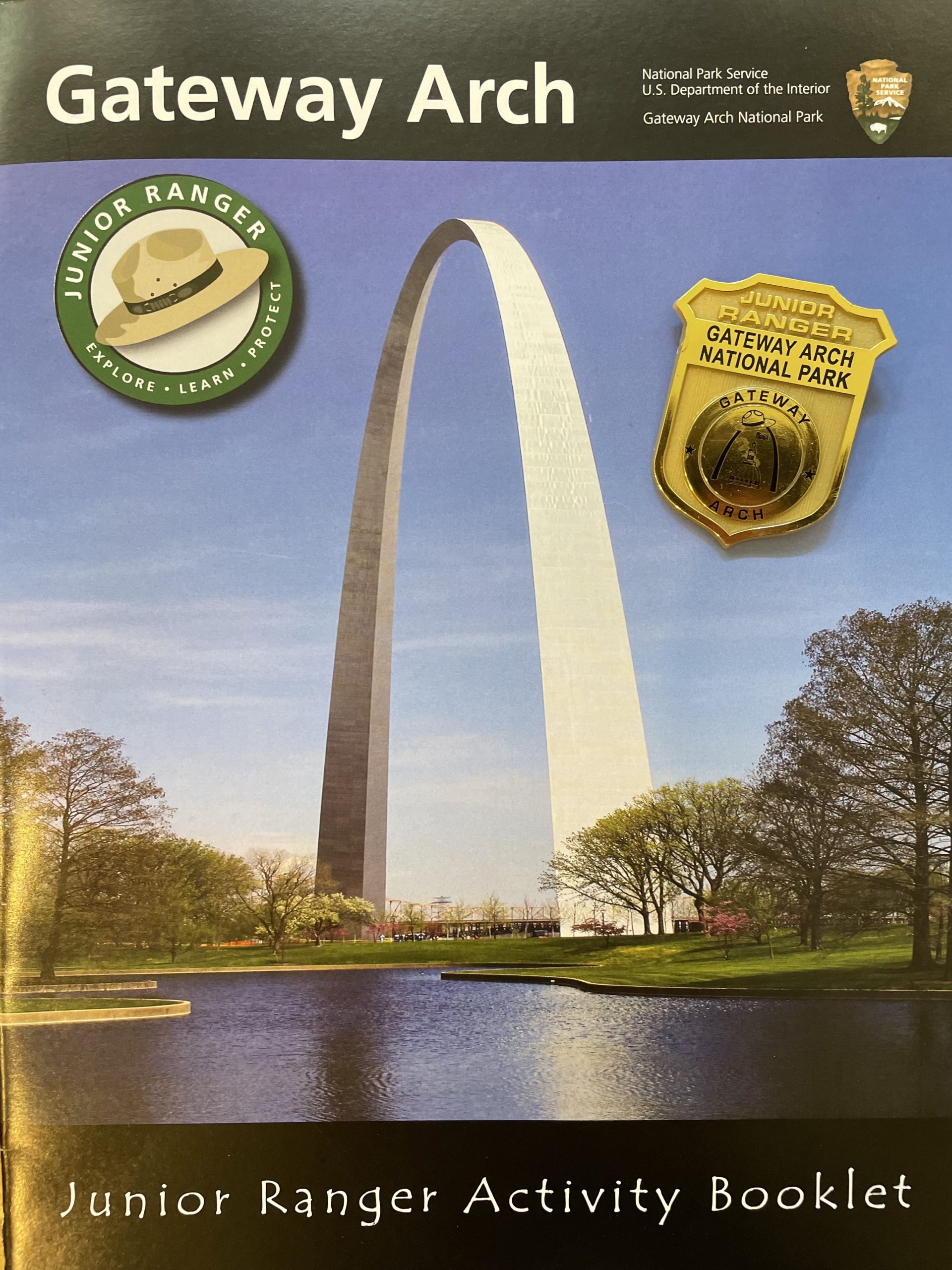 We recited the Junior Ranger Pledge and they handed us each a special collector's pin shaped like the golden arrowhead badges the rangers wear. We definitely had a great time and want to come back in the summertime when the riverboats are out and we can clearly see all the amazing views the Gateway National Arch has to share. Check out my video below for all pictures and videos of our trip, including us reciting the pledge!
Thank you for reading and viewing, I hope that you will share this information with your friends and family, or perhaps be inspired to start planning some family road trips during summer break. Come back here each Friday in June to take a peek at some of the Junior Ranger programs. Looking forward to seeing you at the National Parks!
Dr. Jaime Brainerd, Ed.D.